VPR's Tom Sandoval Says Jax Taylor Is Angry And Projecting
Sandoval is convinced Jax was intentionally trying to hurt him with his Twitter rant.
Ashley Hoover Baker February 24, 2020 1:47pm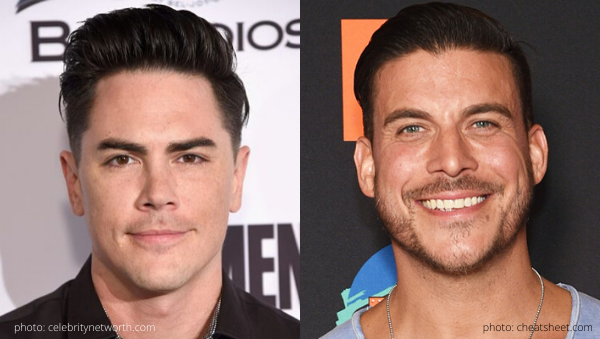 Vanderpump Rules' Tom Sandoval says Jax Taylor was intentionally trying to hurt him with his recent Twitter rant. Sandoval says Jax is 'angry' and 'projecting.' Tom Schwartz feels like he is stuck in the middle of his feuding friends.
The tweets:
Tom does things for tv so he looks good. Period. You all live in a fantasy world. https://t.co/I4qMa8omvQ

— Jax (@mrjaxtaylor) February 19, 2020
Umm he was banging a girl from Vegas the week before…relax. let's not forget, Tom has cheated as well.. https://t.co/YEwgVjIVMV

— Jax (@mrjaxtaylor) February 20, 2020
Things continued to get heated on social media….
Jax's social media behavior has been odd to say the least- I even got blocked this weekend! "It seems like he's angry and projecting," Sadoval told Us Weekly about Jax's Twitter activity. "Jax will say that I'm doing everything for the wrong reasons. Try to discredit me in any way he can. Again authenticity is important to me and anything I ever do and say on the show is to be truthful, open and honest about my life and how I am feeling."
Sandoval didn't stop there…
"I don't see a changed person when he acts like this. What's most upsetting is when Jax says things that he knows are not true just to try to hurt me."
What started this frenemy feud?
Sandoval decided to brought up the comments made by pastor Ryan Dotson, who was supposed to officiate his wedding to Brittany Cartwright. The pastor's past remarks about the LGBTQ+ community were very troubling, even Lisa Vanderpump called the couple with the same concerns.
Tom told US Weekly, "Yes, it was bothering me before and it was all over the internet – but I didn't want to be the one to mention it. As Lisa had brought it up first then I felt it important to ask the question. I've experienced friends who are gay being influenced by these religious opinions and it has seriously affected their lives. Authenticity has always been important to me ever since I've been on the show and if I didn't say something then I would have been being inauthentic."
What does this mean for their mutual friend, Schwartzie?
"I know they love each other, but it's been a constant in their relationship. They're bickering a lot and they butt heads and they both have strong personalities," Schwartz told US Weekly. "I'm always trying to mediate, put myself in the other person's shoes and bring them back together and they've always resolved every quarrel they've been in but, this one is the most intense by far. And what you've seen is just the beginning. It was very uncomfortable for me."
Schwartz added that Jax has "tendency to spiral" on Twitter. "He's kind of impulsive. He's mercurial. He's Jax Taylor. And then he sort of recalibrate and he calms down and I think he's settled down now."
If you need more VPR and reality tv drama in your life, make sure you subscribe to the On This Day Entertainment podcast, where I break down all of the hottest reality tv and celebrity news for the week. Here is the most recent episode.
Whose side are you on? Leave Team Sandoval or Team Jax in the comments!
---