Model Victoria Brito Dishes On RHOC Alum Braunwyn Windham-Burke And Her A-List Dating History
Victoria confirmed hooking up with Zoe Kravitz, Samantha Ronson, Rita Ora, and Cara Delevingne.
Ashley Hoover Baker November 25, 2021 5:00am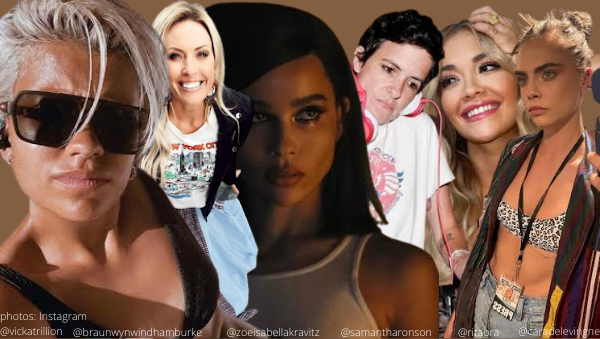 Fashion model/influencer, Victoria Brito, joined S'More Date creator Adam Cohen Aslatei (ACA) on an episode of S'More Live on Instagram and dished on her current *unnamed* relationship –cough cough Braunwyn Windham-Burke cough cough– and an overview of her A-list dating history.
Braunwyn:
Fans immediately took to the comment section of S'More Date's IG live to ask about Victoria's rumored girlfriend, Braunwyn Windham-Burke, who recently starred in seasons 14-15 of the Real Housewives of Orange County.
"She's great. She's very f*cking annoying. I adore her. We've just been talking and spending a lot of time together and she's a fun time. I dig her. I'll leave it at that."
Proving a picture is worth a thousand words…
Find someone who looks at you the way Victoria Brito looks at Braunwyn Windham-Burke. 💕 #rhoc @braunwyn

📸: @ChanelOmari pic.twitter.com/kqg0bERfI2

— OnThisDayENT (@OnThisDayENT) November 24, 2021
Victoria confirmed in the interview that she is indeed dating a Real Housewife, though never confirmed it was the mother of seven.
A-list AF:
Now that we've jumped to conclusions about Victoria and Braunwyn's relationship status, let's dive into fan questions regarding the list of ladies rumored to have hooked up with the self-proclaimed Sneakerhead.
Spoiler alert- it's only getting shadier…
"Have you ever had a fling with either Zoe Kravitz or Rita Ora?"
Though Victoria didn't confirm which of the Hollywood hotties she hooked up with, based on how visibly uncomfortable she got when trying to answer, I'm going to put my money on her hooking up with both and not wanting to choose.
But that's just me reading between the shady lines…
What do you think?
Shag, marry, remove:
To muddy the waters even more, Victoria was asked to 'shag, marry, and remove' all three of the women she just discussed.
Without much hesitation, Victoria exclaimed that she would 'shag' singer Rita Ora.
"I'd shag the f*ck out of Rita Ora. She knows that."
Victoria confessed she would marry her 'friend' Braunwyn, and remove Zoe.
DRAMA!
Models and Eskimo sisters:
I'm LIVING for this…
Not only did Victoria admit to being a member of the mile-high club, "F*ck yes I am," but the designer admitted to having been a frequent flyer "years ago."
"I would do it (hook up on an airplane) all the time with a really really well-known model. We are just going to label her 'CD' for now."
Could it be anyone other than Cara Delevingne?!?!
During a game of Sip & Tell, Victoria confirmed the rumors of having a "fling" with DJ Samantha Ronson.
"So you and Lindsay Lohan share something in common," commented ACA.
"We do."
View this post on Instagram
Watch the full interview here:
Not only did Victoria dish on her love life, but she also talked about a recent night out with Real Housewives of New York's Eboni K. Williams and Barbara Kavovit.
See for yourself!
View this post on Instagram
Gimme S'More:
Check out S'More Date on Instagram for weekly celebrity interviews.
Like the show Love Is Blind, S'More Date builds meaningful connections between people before they see one another. Download the S'More Date app!
Do you think Braunwyn is the Real Housewife currently dating Victoria? Sound off in the comments!
---