RHONY's Eboni K. Williams 'Read Comedian To Filth' After Hijacking The Mic During Set
Comedian Sam Bloomstone insulted Eboni's 'JC Penny' boots.
Ashley Hoover Baker November 23, 2021 9:14am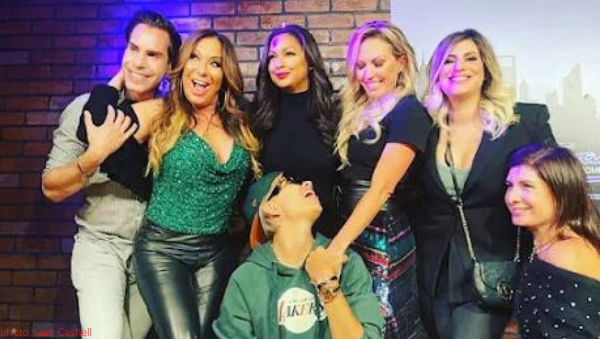 Former Princesses: Long Island star/stand-up comedian/host of the Chanel in the City podcast, Chanel Omari, hosted her hilarious and hot All-Star Stand Up Comedy Show Bday Bash, which was presented by the Chanel in the City podcast and produced by CO Productions, at NYC's Broadway Comedy Club.
Chanel is planning a Comedy & Chanel in the City Tour featuring housewives from different cities, in addition to well-known comedians.
Sure. This may have been a comedy show, but the real star of the night was Real Housewives of New York's Eboni K. Williams…
The scene:
In addition to Eboni, RHONY's former 'friend of' Barbara Kavovit was in attendance as well as Real Housewives of Orange County's Braunwyn Windham-Burke, the mother of seven's *rumored* girlfriend model/influencer Victoria Brito, and S'More Dating App (the nonsuperficial way of dating) founder, Adam Cohen Aslatei.
The five-star docket included A-list comedian,
Mark Normand
and several other comics, but it was comedian/cutie,
Sam Bloomstone
, who made a comment to Eboni about her Italian leather boots.
The drama:
While doing crowd-work, Sam commented on Eboni's footwear, calling them 'JC Penny boots.'
The clap back:
'JC Penny's boots' was enough to encourage the host and executive producer of Holding Court With Eboni K. Williams to share a word with the crowd.
Eboni did what Eboni does best; she popped on stage, snatched the microphone, and "read the comedian to filth," according to a partygoer.
"What we DON'T do is JC Penny's, baby!"
"A b!tch like me," she continued, "you gotta respect," before slapping Sam's backside.
The crowd devoured Eboni's shade and even chanted "QUEEN" before eventually returning the mic to Sam.
Watch the takeover for yourself:
Has anyone done a wellness check on Sam Bloomstone?
Video courtesy of Twitter's @eliszus. 
Adding stand-up comedy to her resume:
Watch out comedy world; Eboni is just getting started.
An insider spilled EXCLUSIVELY to @onthisdayentertainment that Eboni accepted Chanel's invitation to perform her first-ever comedy routine in a future stand-up show.
We'll have to wait and see if the NYC housewife will share the stage with comedian Sam Bloomstone (whose set was described as "'really funny' and 'solid' until Eboni interjected") once again…
Would you like to see Eboni (or any other Real Housewives) perform a stand-up comedy set? Drop names of who you think would kill it in comments!
---