Shake Chatterjee Believes Nick Lachey And Vanessa Lachey "Should Get Booted" From Hosting Love Is Blind
Ashley Hoover Baker April 29, 2022 4:00am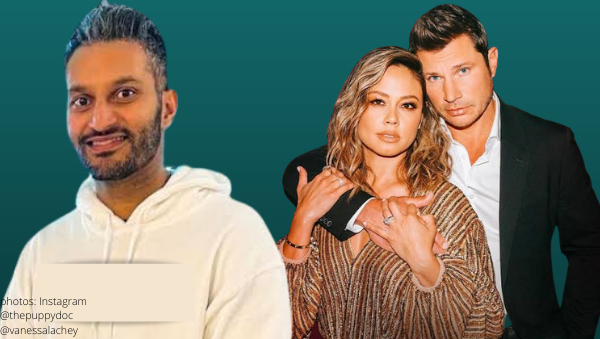 Love Is Blind's Shake Chatterjee joined S'More Date creator Adam Cohen Aslatei (ACA) on an episode of S'More Live on Instagram to diss the hosts of Netflix's hit show, Love Is Blind.
Shake VS The Lachey's:
The season 2 LiB villain referred to Nick and Vanessa Lachey as "not at all impartial hosts" before saying "they had no problem ganging up on me" rather than "facilitating the conversation and not like joining in."
"In my opinion, I feel they should get booted off. I feel like anybody could do a better job than those two. Literally anybody."
Romantic receipt:
Shake described the LiB2 reunion as "upsetting" and also "extremely hypocritical" since the pair met "on the set of a music video."
The rhetorical question Shake presented circled back to the purpose of the dating experiment- Is love really blind for a couple that met in that picturesque of a context?!?!
***Since I had a legit decade-long addiction to TRL, I believe myself to be a qualified armchair expert on this topic.
I'd like to make some corrections to what was claimed in the S'More Date interview.
Shake stated Nick and Vanessa met on the set of a music video set.  
In reality, Nick and Vanessa met at MTV's TRL set when Vanessa hosted the music video countdown show and Nick (and his biceps) appeared as guests. 
 After several encounters, Nick invited Vanessa to portray his love interest in his video for 'What's Left of Me,' in which the S'More Date host declared Vanessa donned a "bikini and a thong."
In reality, 'What's Left of Me' is a ballad from Nick's first album- apart from 98º. Vanessa's character represented Nick's freshly divorced first wife, Jessica Simpson in the tearjerker- this was no 'Give Me Just One Night (Una Noche)' as Vanessa was demure in a LBD … Never forget the video's zoom out shot that began with Nick and Vanessa only to reveal a camera crew documenting the couple's heartfelt moment, à la Newlyweds. Meta AF.***
End rant.
Back to what Shake said…
Deepti Vempati's short-lived fiance continued to throw shade- this time towards a word Vanessa invented.
Shake recalled a statement Vanessa made at the season 2 reunion- "'Nick would stick with me even if I was dismangled.'  I think she made up a word. Dismangled in a car accident."
"I'm sure you'd like to think that, but you really don't know."
Watch for yourself:
View this post on Instagram
Gimme S'More:
Check out S'More Date on Instagram for weekly celebrity interviews.
Like the show Love Is Blind, S'More Date builds meaningful connections between people before they see one another. Download the S'More Date app.
Do you agree with Shake on his opinion of Nick and Vanessa as hosts? Drop your opinion off in the comments!
---