Love Is Blind's Lauren 'LC' Chamblin On How Mark Cuevas Proved Himself An 'F Boy'
"He was saying one thing...and then doing a completely opposite thing."
Ashley Hoover Baker October 23, 2021 8:30am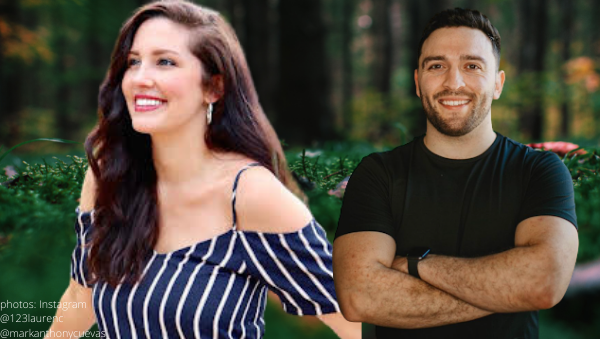 Love Is Blind star, Lauren 'LC' Chamblin joined S'More Date creator Adam Cohen Aslatei (ACA) on an episode of S'More Live on Instagram and dished on dating her former costar, Mark Cuevas.
Disappointing deets:
ICYMI, Mark and LC dated after Jessica Batten dumped him at the altar for everyone with a Netflix subscription to witness.
After several months, LC caught her former costar in an elaborate lie.
"When it comes to [my breakup with] Mark, it basically came down to classic f*ck boy stuff."
"I gave him my stipulations, not an ultimatum. I was just basically 'This is what I want. If that's something you're interested in, then that's fine.'"
After multiple occasions of reassuring the Permission To Enter podcast host that he was "all in" for a relationship with her, LC learned the truth about Mark the hard way.
"For the most part, he was saying one thing- making me believe one thing- and then doing a completely opposite thing."
"Classic f*ck boy."
Reddit to the rescue:
The social media app had a thread that revealed Mark's truth.
"I had dropped him off at the airport that weekend prior and he was going to visit his dad."
Get this…
The trip to 'visit his dad' was a cover story to travel to visit another woman.
Mark went so far as to send photos of his dad to LC while he said he was allegedly in Chicago visiting him.
In reality, Mark was in Cleveland canoodling with his (now) baby-mama and fiancé.
"Shout out to Reddit" for exposing Mark's shady behavior.
Taking it in stride:
LC was able to admit her defeat in the war against f*ck boys- even laughing it off.
"Damn. That was good. You got me."
Don't feel bad, LC, I was bamboozled by Mark as well.
Watch the full interview:
LC gives her hot-take on Diamond Jack and Carlton Morton's relationship, who she would have pursued if she could go back into the pod, and so much more!
View this post on Instagram
Gimme S'More:
Check out S'More Date on Instagram for weekly celebrity interviews.
Like the show Love Is Blind, S'More Date builds meaningful connections between people before they see one another. Download the S'More Date app!
Did Mark give you f* boy vibes while on LiB or did he come off as a nice guy? Sound off in the comments!
---