Love Is Blind: Diamond Jack Blocked Carlton Morton On Social Media
Why forced Diamond to get to this point?!?!
Ashley Hoover Baker April 14, 2020 12:37pm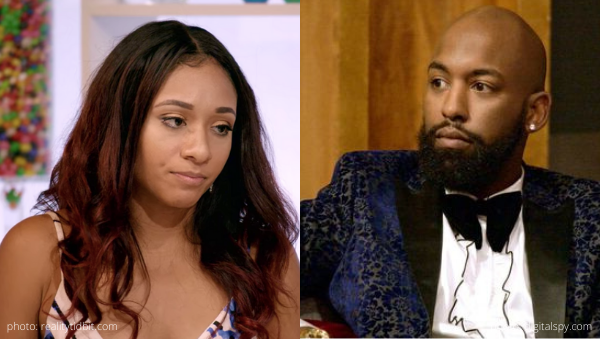 "Watch my ass to the next d***, boy. Who the f*** do you think I am? You ain't married to no average b****, boy!" – Beyonce and Diamond Jack
Love Is Blind's Diamond Jack blocked her former fiance, Carlton Morton, in a not-as-dramatic fashion as she did on Netflix's hit show, being that Queen B wasn't quoted. Diamond spoke with TMZ and shared what really went down once cameras stopped rolling.
What's the 411?
According to Diamond, Carlton got himself blocked on all of her social media platforms after bad mouthing his former fiance online. "Diamond says Carlton was all hugs and smiles with her during the reunion episode, but as soon as cameras stopped rolling … she claims he turned into Mr. Hyde, and allegedly started bad-mouthing her online and threatening her with legal action."
"That was enough for Diamond to completely ax him from her feed. But, there's a bigger reason she thinks he's allegedly been flip-flopping, and it has to do with the forthcoming second season — which we already know Carlton is openly lobbying to join."
Love Is Blind Season 2:
Casting for season 2 of LIB has already begun and, contrary to season one, producers are questioning potential cast mates about their sexual orientation. After Carlton's revelation regarding his sexuality (after the couple's time in the pods, mind you), Diamond strutted away from her fiance, creating one of the most meme-able moments from the show.
Netflix's lesson learned:
Diamond sees Netflix's approach for casting another season of pod-people as a lesson learned more than anything else.
Carlton took to Instagram to play the victim:
He captioned a video of his former fiance, "I would tell my ex fiancée @iam_diamondjack how BEAUTIFUL she is in this #DontRushChallenge but she rushed to block me after the reunion. Can y'all help me get through to her? I'm over here in quarantine reminiscing about the pods. I'm gonna do something special for whomever helps me at LEAST get unblocked. I miss you, beautiful. I'm sorry for being defensive and acting like a damn fool. I'm waiting on you to unblock me like I'm waiting on this stimulus check, baby. 😭🤦🏾‍♂️."
Need more Love Is Blind in your life?
Check out the Spill It, Sister podcast. The hosts hilariously break down each episode of Netflix's juggernaut series. Here is the most recent episode!
Do you think there is any hope Diamond and Carlton? Drop your opinion off in the comments!
---