Love Is Blind's Deepti Vempati's Brother Called Abhishek 'Shake' Chatterjee A "Loser"
SPOILER ALERT for season 2 episode 10!
Ashley Hoover Baker February 28, 2022 12:28pm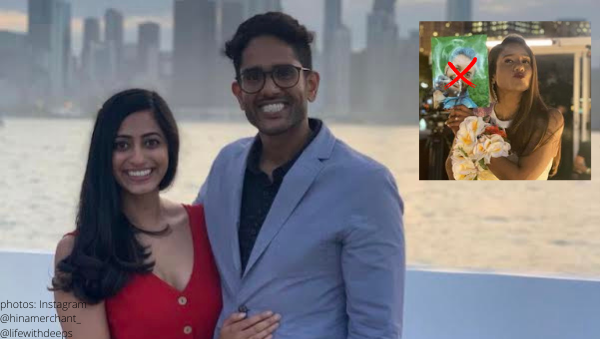 Love Is Blind season two's breakout star, Deepti 'Deep' Vempati, has siblings on her side after she called off her wedding to Abhishek 'Shake' Chatterjee.
Deep's brother, Sunny Vempati and his wife, Hina Merchant Vempati, posted a joint open letter on Instagram following a beautiful photo of Deep wearing what would have been her wedding gown (if her then-fiancé wasn't such a '🤡'.)
The message:
After praising his sister for knowing her "self-worth" and demanding what she deserves from a husband, Sunny and Hina gave it to Shake.
"Now normally I don't get involved in drama but I'mma [sic] defend my sister here: 'Shake', bruh, you're a loser."
"You minimized my sister's life by making some awful and cringeworthy comments about her."
"You made these statements knowing your own mom would one day watch it; my parents and my entire family had to sit through you talking behind my sister's back about insecurities she fought her entire life."
"Despite your comments on and off camera about her body, she continued to only ever be supportive of you, despite our best efforts to convince her to see through your BS. THATS [sic] the person she is."
Blame it on the 'edit':
Shout out to Sunny and Hina for not allowing Shake to blame Netflix for the 'edit.'
"In spite of your best efforts to pretend this was all fictional and it was because of the 'edit', no one forced you to say those words."
"We welcomed you into our home, and you saw it as an opportunity for clout; so forgive me if I'm not sympathetic towards you and the hate you're receiving."
View this post on Instagram
Fin:
Along with an emoji pairing to represent a mic drop, Sunny concluded the scathing message with "good luck with the rest of your life; and stay the f*ck away from my sister."
That, my friends, is a burn.
Deep's fans react:
There was a tremendous outpouring of support for Deep (and shade being sent Shake's way) in the comment section.
"Yooooooo🙌🙌🙌🙌🙌🙌 love this what an amazing brother."
"Shake is a scum bag and I was so happy she turned him down."
"👏👏👏 YES. He said those things TO A CAMERA CREW. And at events where HE WAS BEING FILMED. She's one of the most beautiful people I've ever seen and honestly am so happy for this openness about how shitty he is."
"He really came out looking like himself here which is like a bag of shallow garbage. 😂"
"THISSSSSS 👏🏾 his comments and behaviour were so disgusting and no edit could make them better. 🗑🚮."
"Yesss 👏🏾👏🏾👏🏾 this* is the brown representation we love to see, not some internalized racist trash can."
Even Leah McSweeney from the Real Housewives of New York chimed in supporting Deep.
"What an amazing big brother and all said perfectly. I was sickened by that boy. Deeps is a HOTTIE and the whole bag of chips. Shake is out here chasing basic bitches. Deeps we got ur back!!!!"
What are your thoughts on the future of Mr. Can-I-hold-you-on-my-back-at-a-music-festival's dating life? Are you (like me) low-key hoping it's a trainwreck? Sound off in the comments!
---