Abhishek 'Shake' Chatterjee Disses Love Is Blind Host Nick Lachey Over Treatment Of Ex-Wife Jessica Simpson
Ashley Hoover Baker April 27, 2022 6:50pm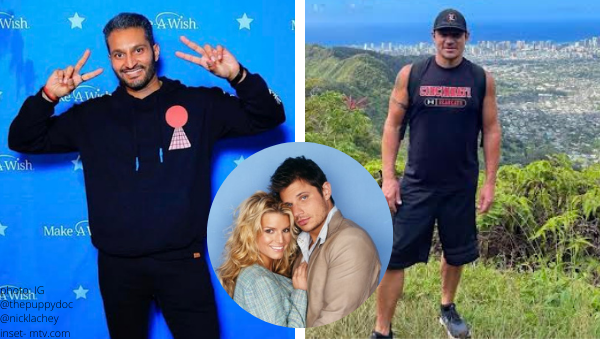 Updated post: 4/27/2022 18:50
Love Is Blind's Shake Chatterjee joined S'More Date creator Adam Cohen Aslatei (ACA) on an episode of S'More Live on Instagram to call out his nemesis/LiB host, Nick Lachey regarding his first marriage.
After the 'puppy doc' described Nick and Vanessa Lachey as "not at all impartial hosts," he continued to throw shade at Nick over his treatment of his then-wife, Jessica Simpson.
Bone collector:
According to Shake, a show that pioneered the 'celeb-reality' genre, Newlyweds: Nick and Jessica, "did not age well."
"Dude you were a d*uchebag to her. Like, you were not nice."
Coming from Shake, this commentary is rich.
How did we get here?
I really hate to agree with Shake on anything- truly, this pains me- but as a superfan of 90's pop, I was invested AF in Newlyweds and this oddball marriage that was doomed from its bubblegum inception.
Being that I find comfort in seeing Jess in her grandma-esque gold crochet shawl, I rewatch Newlyweds every couple of years. I'm a nostalgia-head, what can I say?!
Admittedly, it is super cringey to see how Nick treated Jess over the course of their marriage all these years later, and definitely would not be ok with my husband speaking to me that way.
I don't want to be on Shake's side, but here we are…
Watch Shake diss Nick interview for yourself:
View this post on Instagram
Gimme S'More:
Check out S'More Date on Instagram for weekly celebrity interviews.
Like the show Love Is Blind, S'More Date builds meaningful connections between people before they see one another. Download the S'More Date app.
Do you agree that Nick's treatment of Jessica can be hard to watch at times, or is it just Shake and me on this one? Drop your opinion off in the comments!
---
Original post: 3/15/2022 @14:35
Love Is Blind's season two villain, Abhishek 'Shake' Chatterjee, took to his Instagram story to throw shade at pop singer/LiB host, 'Obviously' Nick Lachey.
Newlyweds:
Shake dug into MTV's vault to criticize Nick's treatment of then-wife, Jessica Simpson.
In the Newlyweds clip Shake shared, the 'I Wanna Love You Forever' screamer belter engaged in a spat with the 98º frontman over his lack of chivalry.
Shake's caption gave instructions to watch with the "sound on" alongside the commentary, "@NickLachey not even opening the car door for his wife. Sad."
In case missed this highlight from the OG celebreality tv craze of the early aughts, here ya go…
Jessica: "You don't wanna open the door for me?"
Nick: "No."
Jessica: "At the beginning of our marriage, you were so eager to open the door for me."
Nick: "That's because at the beginning of our marriage I got laid."
What a time to be alive.
ICYMI:
Nick and Shake have a contentious relationship. On the LiB2 reunion, Shake hit on Nick's current wife, Vanessa Lachey, while insulting every other woman on the stage … which is apparently Shake's specialty.
During filming, Shake confessed the only woman in the cast "I'm attracted to is Vanessa."
It gets worse:
Since the airing of the reunion former fiance, Deepti Vempati dished that wasn't the first time Shake made a pass at Nick's wife.
"Can I tell you… he [Shake] was hitting on her [Vanessa] at the couples reveal."
"It's so disrespectful."
Nick has yet to respond to Shake's latest diss.
Do you think either Nick will clap back or keep Shake's name out of his mouth? Drop your opinion off in the comments.
---