Selling Sunset's Emma Hernan Clarified Her Interaction With Ben Affleck On Raya
"You didn't see the timeframe..."
Ashley Hoover Baker April 26, 2022 10:35am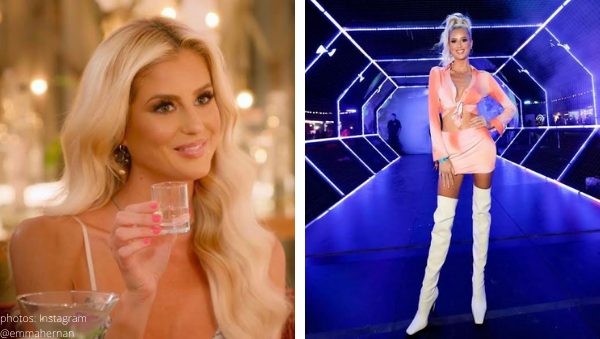 Selling Sunset's sophomore star, Emma Hernan, took a break from slinging real estate (and empanadas) to clarify what she really meant when she implied there was a flirtatious relationship between her and Ben Affleck.
ICYMI:
According to a conversation between Empanada Emma and her costar, Chrishell Stause, Emma matched with Ben on the celebrity dating app, Raya.
The actor's alleged "opening pickup line" involved New England, as both he and Emma are from Massachusetts.
"We have the Boston connection," the high-end real estate realtor gossiped.
Emma teased, "He may or may not have been texting me."
"He may or may not have asked to grab … coffee a few times."
"It was very sweet."
Blaming the edit:
In an interview with E!, Emma explained, "the whole misconception was" in the timeline of what she told Chrishell VS what was shown on Netflix's hit show, as the alleged interactions between Emma and Ben were "not recent." 
"This was 2019," years before his romance with Jennifer Lopez rekindled.
"Like, literally, the smallest, innocent little thing and it was taken…blew up out of proportion."
For the record:
The Netflix star's rep told Us Weekly, "Ben and Emma's Raya interaction occurred in 2019. They matched, they exchanged messages, they never met."
Emma clarified on the Daily Pop, "I think on the show, you didn't see the timeframe and it just seemed worse. And it was literally the smallest thing. End of story. We're shutting that one down NOW."
On a scale of one to ten, how much do you think Ben Affleck wants to be removed from this narrative? Sound off in the comments!
---