Christine Quinn Dishes On Selling Sunset And Chrishell Stause And Justin Hartley's Divorce
"We heard that they were in therapy."
Ashley Hoover Baker July 18, 2020 10:01am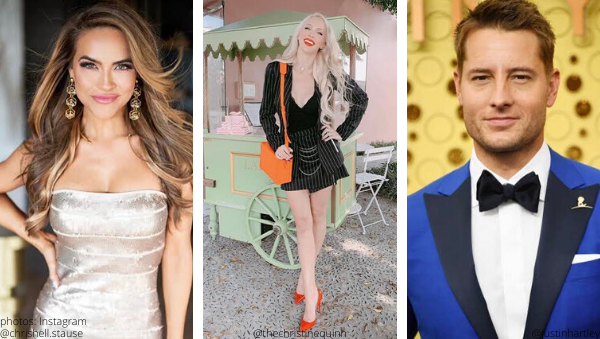 Christine Quinn dishes on her Selling Sunset co-star, Chrishell Stause, and her now ex-husband, Justin Hartley. The luxury real estate agent sat down with Page Six's Eileen Reslen to spill the tea on her relationship with Justin, his split with her colleague and co-star, the possibility of infidelity and her current friendship status with the Days of Our Lives and All My Children alumni.
Did you ever hang out with Chrishell's ex, Justin?
The beauty threw subtle shade to her co-star by gushing about the This Is Us hunk.
"I hung out with him many times and he was an absolute doll. He was an absolute sweetheart, especially to Davina [Potratz] and I… and I thought that was really interesting considering, you know, the dynamic between Chrishell and I."
"The blonde bombshell continued, "He has been nothing but nice and supportive to us. We went to the Critic's Choice Awards together and um, Chrishelle, you know, was ignoring me at that time, of course and running out of the room."
"He's such a gentleman. He came up and took the time to say hi and have a conversation with Davina and I and he's a really really really down to earth, humble, great guy, in my opinion. So he's always treated me with respect."
Do you have any insight on why Justin wanted to divorce Chrishell?
"We don't know. When we were filming, obviously, she wasn't allowed to talk about him at all."
Did Justin ever make an appearance on Selling Sunset?
"He wasn't allowed to appear on the show, which is why we don't hear her talk about her relationship or really anything personal in her life because, I think, that was the understanding that they had is he wanted to be totally private in regards to Selling Sunset, which she respected."
"So, we're never going to see him on the show, and we're never going to see her talk about him and I really don't think there's ever any resolve, unfortunately."
"I really don't know what happened between the two of them. But who knows? I'm not sure we'll ever know."
Do you think the issue could have been infidelity, since Justin has been seen out with another woman?
"Honestly, no. We just thought maybe they were having communication problems for a while, and we heard that they were in therapy. So, obviously there was some issues going on with them and it's none of our business, but I really, really don't know.
How are you and Chrishell doing?
"You know, I'm really confused, still. I'm blocked to this day, I've been blocked since episode eight of season one, since the season finale. It's just really, really hard. I want to move on."
"The other girls and I are really great at our jobs in real estate and filming the television show because we understand we get in fights, but at the end of the day, we're always able to make up and be like, 'Okay, you okay? You good?' She's the only one who really held a grudge."
Christine came with receipts, "And you can see in season 2, I have tried to move on with her, and she didn't really want that. She didn't want that relationship at all."
Does your complicated relationship with Chrishell affect the other agents at the Oppenheim Real Estate Group?
"So, it's just unfortunate. It's really awkward to everyone. Maya [Vander]'s tired of it. Heather [Young]'s tired of it. Davina's tired of it. Everyone's just exhausted by her ignoring me so I hope that maybe next season we can move forward. But I've been trying. I've been doing everything I can and unfortunately, she's just a brick wall in every aspect of her life, and you'll see that on the show. You just don't know much about her, and you never really will. So, I just wish that her and I can be in a better place."
Watch the interview for yourself:
Season 3 of Netflix's Selling Sunset drops on August 7.
Need more Selling Sunset in your life to hold you over til then?
I broke down the first two seasons of the popular Netflix series for the On This Day Entertainment podcast with fellow podcaster and SS super fan, David Yontef from Behind the Velvet Rope. Listen to our chat here!
Do you think Christine and Chrishell will eventually work through their issues? Sound off in the comments!
---