RuPaul's Drag Race Winners: Where Are They Now?
Here's the latest on Bianca Del Rio, Sasha Velour, Yvie Oddly, Sharon Needles and more!
Ashley Hoover Baker February 1, 2020 9:46am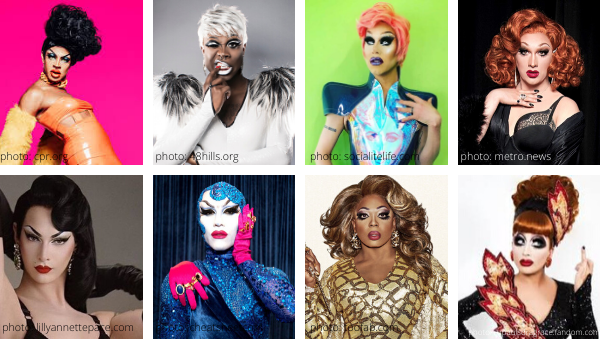 Kitty Girls, start your engines. We are about to dive into a group of victors (Or should I say Victorias?) from RuPaul's Drag Race. Here's a list of some of my personal favorite RPDR alumni and what they are doing now.
BeBe Zahara Benet can be found in Brooklyn March 5th and 6th performing in Nubia. According to the season 1 RPDR winner's Instagram post, "The Avengers are shaking! 💪🏾"
The self proclaimed 'stupid genius, reviled sweetheart, and PBR princess' is using her celebrity to give back to those in a time of need. The YouTube sensation is joining the Werq the World tour tour in Asia, Australia and New Zealand this February,"I'm humbled to assist in giving back to a beautiful and rare place that's has given me so much love through the years! We LOVE you Australia and stand with you in this truly devastating time!"
Even better… Voss Events donated HALF of all January ticket sales to the @wildlifewarriorsworldwide and @redcrossau to fight the devastating brush fires in Australia.
Yaaaaasssss for this philanthropy.
The season 5 RPDR winner is taking a stand against the toxic treatment of the LGBTQ+ community with her participation in the #WeAreHere movement.
Jinkxie posted a video explaining what "We Are Here" stands for with the caption "🙌🏻🙌🏽🙌🏾🙌🏿 don't let any administration undo the progress we have made. We are citizens of this country- a country that claims that all citizens are given the same rights, freedoms, and protections. There is no justification for sexual and gender minorities to STILL be discriminated against under any circumstance. Religious beliefs shouldn't come into play in a country that claims separation of Church and State. We will not be erased, we will not back down, and we will not be treated like second class citizens. Show your support by voting for our rights.
WE ARE HERE.
In addition to being named 2019 New York Magazine's most powerful drag queen in America, she is an international treasure. The AJ and the Queen guest star captioned an Instagram post, "❤️🧡💛💚💙SO EXCITED TO BE RETURNING TO #BergenPride AGAIN THIS YEAR TO PERFORM MY STAND-UP SHOW "AN EVENING WITH BIANCA DEL RIO!!"
Season 7- Violet Chachki
Violet's face is beat as she teases an upcoming digital drag episode for her YouTube channel. Check out her Instagram page to keep up with the fashion forward lewks she rocks.
Bob the Drag Queen is teaming up with season 12 dragtestant, Brita Filter, to host the 21st annual Glam Awards. You may have seen the season 8 thespian recently on Drag Con UK's Pink Carpet Walk, doing what he does best, showing up as an eleganza extravaganza.
Sasha is looking 'unusually symmetrical' for her press tour through London promoting her "Smoke and Mirrors" tour through Europe and the UK. Condragulations, Sasha, for already selling out the London Palladium.
The reigning winner of the 11th season of RPDR, Yvie Oddly, is not only 'the ace in your hole' she's also one of the snatched stars of RuPaul's Drag Race Live, the Las Vegas residency show that is now open though August 2, 2020.
I broke down the line up for RPDR season 12 (which premieres on Friday, February 28) on the most recent episode of the On This Day Entertainment podcast. In case you'd like a breakdown of all of the Drag Race franchise's upcoming tv projects, I've got you!
Which of RuPaul's girls would you like to see more of? Drop names in the comments!
---