RuPaul's Drag Race Winners: Where Are They Now?
Here's the latest on Bianca Del Rio, Sasha Velour, Yvie Oddly, Sharon Needles and more!
Ashley Hoover Baker November 25, 2022 1:49pm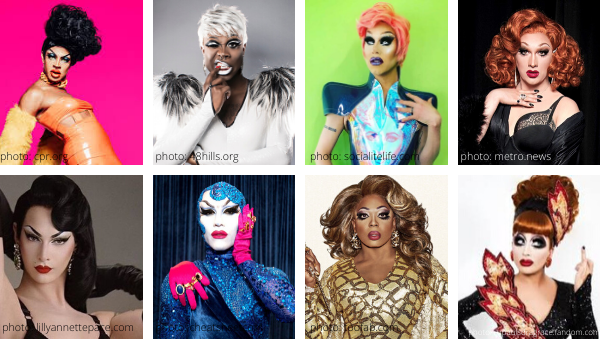 Kitty Girls, start your engines. We are about to dive into a group of victors (Or should I say Victorias?) from RuPaul's Drag Race. Here's a list of some of my personal favorite RPDR alumni and what they are doing now.
View this post on Instagram
The holidays are here with the RPDR1 winner.
"Get into the holiday spirit by re-watching my "Santa Baby" music video and streaming my holiday EP, "The Christmas Chanteuse." Tap the link in my bio for your dose of seasonal cheer. 🎅🏾"
If you've missed BeBe since season 1, you can always rewatch her return on All Stars 3.
View this post on Instagram
According to RuPaulsDragRace.fandom.com, The RPDR2 winner "announced on his social media that he would make his return to drag, performing exclusively on OnlyFans and not appearing on any other social media platforms."
"He still does not want to be associated with Drag Race but has stated he "wishes them well in their future endeavours" and he still goes by He/Him pronouns and has confirmed that Tyra be referred to as "King Tyra."
Season 3- Raja
View this post on Instagram
The RPDR3 winner went on to compete in All Stars 7, Winners Only. Though Raja didn't win, she earned the title 'Queen She Done Already Had Done Had Herses.'
Raja just wrapped her Eyeconic Tour and is having success with her 2021 Sauvignon Blanc, Wine and Complain.
View this post on Instagram
In addition to doing important things like winning Drag Race and voting, the RPDR4 winner has released new music.
"Absolute Zero is out now."
View this post on Instagram
Jinkx Monsoon has truly taken the world by storm since winning RPDR5. They went on to win All Stars season 7 and even announced their Broadway debut as Mama Morton in Chicago!
"
I cannot stress enough that this has been a lifelong dream of mine. I'm making my Broadway debut…we did it kids! 😭🖤 @chicagomusical
"
View this post on Instagram
Bianca is using her influence to make positive changes in our world.
The RPDR6 winner has taken to social media to make statements about gun violence in America, most recently after the tragedy at the Q Club in Colorado.
View this post on Instagram
Violet is ready for the new year!
The RPDR7 winner stars in her own gag-worthy 2023 calendar available for purchase.
View this post on Instagram
Bob is back on your small screen! The talented drag performer and comedian returns for season 3 of We're Here on HBO Max. 
"We headed to Grandbury, TX. not gonna lie, this was one of the toughest towns we've been to. Luckily I have a lovely new drag child and another great experience."
View this post on Instagram
In addition to winning Halloween 2022, the RPDR9 winner found success on a different stage.
Sasha wrote and directed "NightGowns: The Musical" which appeared at the Connelly Theatre in NYC for 10 performances.
View this post on Instagram
In addition to serving flawless lewk after lewk to her Instagram page, Aquaria recently made an appearance at the opening of Thierry Mugler: Couturissime at Brooklyn Museum.
Oh, and Aquaria won Thanksgiving 2022.
View this post on Instagram
The unstoppable RPDR11 winner can be seen as a regular in RuPaul's Drag Race Live in Las Vegas as well as in 2022's Werq the World Tour.
Yvie also competed in All Stars 7 in 2022.
View this post on Instagram
Jaida is staying booked and busy since her time on RPDR, even competing on RuPaul's Drag Race All Stars season 7 … winners only.
Though she didn't take home the Queen of all Queens crown, she earned several Legendary Legend stars and continued her legacy (out of quarantine.)
You can keep up with Jaida (and Heidi 'N Closet) on Hall & Closet podcast.
View this post on Instagram
Were you ready for Symone's Allure photos? My pearls are still clutched!
The season 13 RPDR winner is not only cashing in fashion magazine checks but is also a spokesperson for @cashapp.
Taking that beauty to the bank!!!
A lot has changed for Willow Pill since winning RPDR14. "I think I need a big ego check."
According to an interview with EW, Willow Pill is "thinking about phasing 'a little bit out of drag' and more into acting."
Particularly, she wants to create more "absurd sketches and music" as well as evolve into more "disgusting" and "dirty" art.
View this post on Instagram
Which of RuPaul's girls would you like to see compete in a future season of All Stars? Drop names in the comments!
---