RuPaul's Drag Race Winners: Where Are They Now?
Here's the latest on Bianca Del Rio, Sasha Velour, Yvie Oddly, Sharon Needles and more!
Ashley Hoover Baker June 30, 2021 7:00am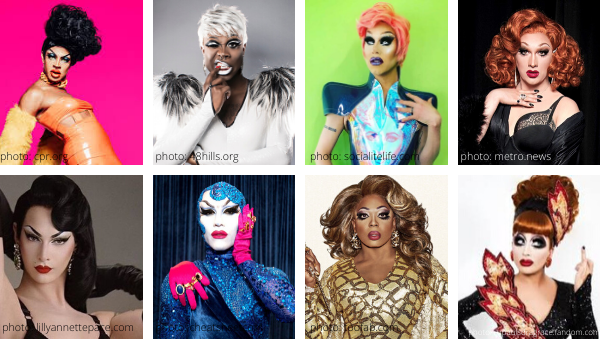 Kitty Girls, start your engines. We are about to dive into a group of victors (Or should I say Victorias?) from RuPaul's Drag Race. Here's a list of some of my personal favorite RPDR alumni and what they are doing now.
View this post on Instagram
BeBe Zahara Benet returns to Moxy Uptown in Minneapolis on July 10, 2021. "#BeBeAfterDark is back by popular demand! Space is limited to allow for adequate distancing, so get your tickets on Eventbrite! 💕"
View this post on Instagram
The RuPaul's Drag Race All-Stars season 2 winner recently performed at Southern Nights Orlando with @vonkruz. "I go out of my way to make other entertainers feel prettier than me… in this case, it was impossible due to my ridiculous perfection."
View this post on Instagram
Jinkxie wants your vote! If you missed her Variety Special, you can stream it now on @hulu "or on the official @televisionacad #FYC portal."
"Today is the LAST day for the first round of Emmy© voting and I would be delighted if you'd consider @thejinkxanddelaholidayspecial for Outstanding Variety Special (Pre-Recorded) and all eligible categories."
⠀
View this post on Instagram
This is a parody for the ages! "The Brady Bunch is about to get DRAGGED! #DraggingTheClassics starts streaming June 30th on @paramountplus ❤️"
View this post on Instagram
Covid who?
Violet is back and "BEYOND THRILLED to announce that the above postponed dates are scheduled to actually happen! INDOORS! IN THEATERS! That's right my solo tour A Lot More Me is back- So excited to revamp the show and continuing touring! Cannot wait to see you all there! Tickets via the link in my bio.
View this post on Instagram
Bob the Drag Queen is back- just don't expect a hug from the queen.
"I'm doing my first live shows after the pon-de-replay. I'll be doing my first two shows at @breaimprov and @irvineimprov. Tickets are on sale now (LINK IN BIO). Im [sic] so excited to see you all, but I'm still not hugging you."
Sasha is looking 'unusually symmetrical' for the premiere party for "Hot White Heist" in Tribeca.
"Sorry I was away from my phone! It was "HEIST" time! Still thinking about the premiere party for the @audible original 'Hot White Heist' at @tribeca (June 16), where the cast of NightGowns (including me!) appeared as 'The Clito Dancers' and turned Hudson yards into a stunning and almost naked queer disco! It was so much fun!"
"Hot White Heist" is a podcast comedy created by @theadamgoldman and @alancummingsnaps that follows a hilarious queer-led Sperm Bank heist! It is over-the-top and camp, just like we all need! Thank you for bringing us onboard and treating us to such a fabulous night!"
View this post on Instagram
This drag queen, performer, makeup artist, and model has stayed busy spinning records poolside.
"🏖 loved spending pride DJing by the pool with @thegigigoode and @the_symone 🏝 @themisshapes @1hotels 🌈"
Three icons. I'm gagged.
View this post on Instagram
The reigning winner of the 11th season of RPDR, Yvie Oddly, is not only 'the ace in your hole' she's also one of the snatched stars of RuPaul's Drag Race Live, the Las Vegas residency show that is reopening in August 2021.
"I'm going going. Back back. To Vegas Vegas!!!! #DragRaceVegas returns to @flamingovegas august 5th! Tickets on sale now 🎲🎰🎲"
View this post on Instagram

The Milwaukee drag queen, fashion designer, makeup artist, and performer is working with Kettle One vodka for their summer campaign.
"What? you don't celebrate the warm weather on your couch, with your favorite gown and @ketelone_us martini in hand? You know I'm celebrating with love, incredible cocktails, and most importantly class. Here's to a fabulous summer, Cheers!"
View this post on Instagram
A proud member of The House of Avalon, Symone just experienced New York City for the first time.
"NYC you were everything and MORE, baby! Couldn't ask for a better first time in the big ol' apple! Til next time divas! 😘.
Want to stay up-to-date with all things RuPaul and her girls?
I can't say I blame you. Check out the Alright Mary podcast for the latest from Drag Race and beyond. Here is the most recent episode.
Which of RuPaul's girls would you like to see more of? Drop names in the comments!
---