RPDR's Willow Pill Considers A Move From Drag To Acting
The season 14 winner plans to create art that is both "disgusting" and "dirty."
Ashley Hoover Baker April 24, 2022 1:59pm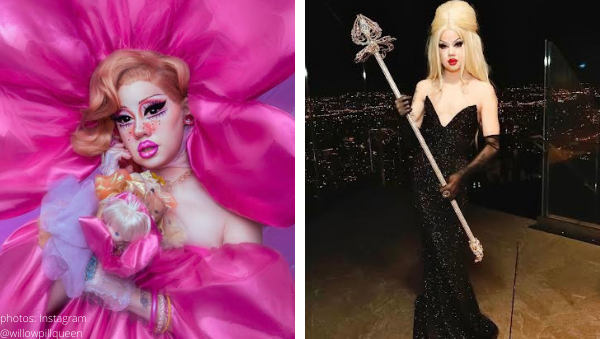 She's not a big pill, she's a Wiwwl Piwwl…
Fist First of all, condragulations to Willow Pill on winning RuPaul's Drag Race season 14… and the cash prize of $150,000!
The champion crowned 'America's next drag superstar' chatted with Entertainment Weekly about how winning RPDR  has changed her and what her future holds.
No more conflama in my life:
A lot has changed for Willow Pill as she confessed, "I think I need a big ego check."
As a result of all of the recognition she's received since Drag Race aired, Willow admitted, "I'd love to be humbled."
Acknowledging that "it feels great to have a huge notification from the world that I'm going in the right direction in my life," Willow knows the balance she requires.
"I'd love to escape to the woods for a while and reconnect with myself, because you can kind of lose yourself in all the conflama of fame and celebrity."
*I'll save you a google search… conflama=conflict+drama*
View this post on Instagram
As the first (publically 'out') trans winner of America's Drag Race franchise confessed, "it can feel overwhelming to be hoisted into the spotlight as the face of representation for any community."
Face it- this was the best reveal of #rpdr14. @WillowPillQueen pic.twitter.com/Dt4j8op5Ex

— OnThisDayENT (@OnThisDayENT) April 24, 2022
What's next for Willow Pill:
According to her interview with EW, Willow Pill is "thinking about phasing 'a little bit out of drag' and more into acting."
Particularly, she wants to create more "absurd sketches and music" as well as evolve into more "disgusting" and "dirty" art.
View this post on Instagram
Want more of RuPaul and her girls in your life?
Check out the Alright Mary podcast for hilarious recaps and so much more!
What kind of projects do you see in Willow Pill's future? Sound off in the comments!
---