RHONY's Heather Thomson Calls Leah McSweeney 'Vulgar'
Holla Heather says Leah plays up the drama for the cameras.
Ashley Hoover Baker June 7, 2021 9:23am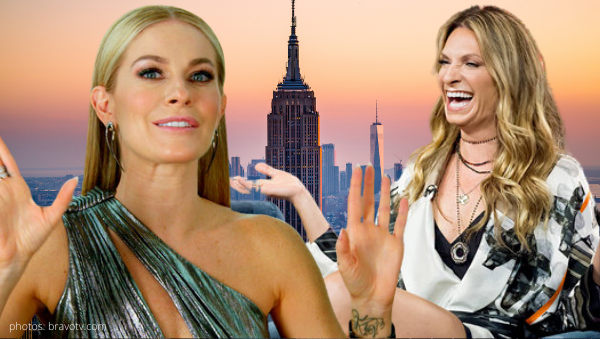 Holla! 
Former Real Housewives of New York star/ current 'friend of' Heather Thomson spilled the tea on sophomore RHONY star, Leah McSweeney.
Two faces:
Heather explained to US Weekly that Leah changes once cameras begin to roll.
"We'd be talking and then the camera would go on and it would be a different scenario. I think there's a line that gets crossed."
Heather doesn't judge:
"I am very much about individuality and letting people be who they are. I say it on the show, exposing one's body, that kind of talk empowers some people. Some people being buttoned up and a little bit more polite, someone would say empowers other people. I'm not going to judge that."
Hey mama:
Heather described Leah as 'vulgar.'
(Didn't Heather just say she doesn't judge?!?)
"I would say it was uncomfortable for me being a mother. Where she crossed a line [is] saying what a man's worth is. That crossed the line for me on so many levels because I would never diminish a man to that. I was offended on different levels. My kid's faces, like, flashed in front of me sitting at that table."
The feud:
If you're up-to-date with RHONY, you saw Leah confront Heather regarding what she said about the other women on her podcast.
"She only read the headlines. No one at that table actually listened to the podcast. So I knew she was going to gun for me. I was given a heads-up … from one of the other women on the show."
Heather elaborated, "I wasn't really that worried about it because I still to this day, stand behind the podcast and everything that I have said about the franchise, my experience on the franchise, all the women on the franchise and the jokes that get fired at you on Watch What Happens Live. You have to quick-fire responses."
Want more Bravo in your life?
Check out the Pink Shade podcast for the latest from the Real Housewives and beyond. Here is the most recent episode.
Whose side are you on? Drop Team Heather or Team Leah in the comments!
---