RHONY's Eboni K. Williams On Whether RHOD's Kameron Westcott Has Committed To Anti-Racist Work
Ashley Hoover Baker November 6, 2021 3:07pm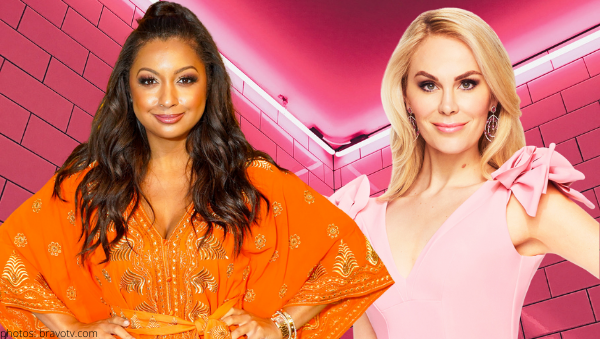 Real Housewives of New York star, Eboni K. Williams joined S'More Date creator Adam Cohen Aslatei (ACA) on an episode of S'More Live on Instagram and discussed whether Real Housewives of Dallas's Kameron Westcott has committed to doing the work to become anti-racist.
In case you didn't watch the canceled RHOD, you may not be aware of the former cast members' history of being insensitive to the Asian culture…
Brandi Redmond famously mocked Asians on social media by manipulating her eyes with her fingers and using an offensive accent, while audiences watched how Kameron treated Eboni's friend, Dr. Tiffany Moon– who joined the cast for season 5, horrendously throughout the final season and reunion.
Kam reached out to Eboni:
"I was actually a guest on Kameron's podcast a few months ago."
"I implore people to go listen to it because when Kameron reached out to me- I don't know Kameron from a can of paint as we say in the south- but I thought if she's going to be woman enough to inquire around having a conversation that very obviously is going to venture into aspects of anti-racism work and the work I do, pre-RHONY, during RHONY, will continue long after RHONY which is the liberating of people of color and marginalized groups in general… I thought that was worthwhile to put it in a word."
"I don't want to give her too many kudos for it, but I thought it said something that she wanted the convo."
"We had the convo…Some of the things she shared with me let me know she is indeed serious in doing better on the issues."
"And that's all the hell that I care about."
Watch the full interview here!
Eboni even provided a timeline regarding the rumors of her castmates leaving Dave Quinn's book release party for the tell-all book, Not All Diamonds And Rosé.
View this post on Instagram
Gimme S'More:
Check out S'More Date on Instagram for weekly celebrity interviews.
Like the show Love Is Blind, S'More Date builds meaningful connections between people before they see one another. Download the S'More Date app!
Did you think Kameron would commit to becoming an anti-racist? Sound off in the comments!
---