Are RHONJ's Jennifer Aydin And Danielle Cabral 'On Pause' After Their Physical Altercation?
Both women are being investigated by the network.
Staff September 24, 2023 8:51am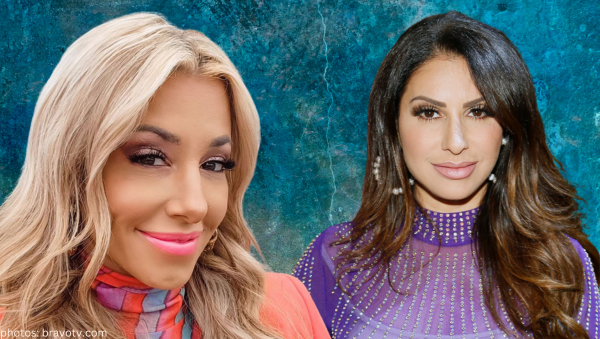 *Everything you are about to read is alleged!*
It's going down with the cast of Bravo TV's Real Housewives of New Jersey.
AllAboutTRH.com was the first to report that a physical altercation transpired between Jennifer Aydin and Danielle Cabral.
Allegedly, Danielle arrived at Teresa Giudice's Tulum party ready to go with Jennifer.
"Jennifer ended up revealing something about Danielle that didn't make her look good and it set Danielle off but no one was expecting for things to get physical."
An additional source spilled to AllAboutTRH.com, Danielle got in Jennifer's face, but the plastic surgeon's wife was the first to get handsy.
"Danielle immediately went in Jennifer's face screaming, 'I see you!!' while others tried to get her to back away."
"She would not step away from Jennifer Aydin's face so Jennifer pushed her shoulder to back off."
"That's when Danielle grabbed a drink and threw it upside Jennifer's face resulting in blood."
Allegedly, Danielle wanted to keep going.
"People were screaming she's bleeding and Danielle did not care, she made it like she wanted it to keep going. Jennifer was even left bruised after the cup broke on her."
Both Jennifer and Danielle are being investigated and have not filmed since the incident. "They were both scheduled to film on Friday and it was cancelled."
While the details are all alleged, Jennifer and Danielle's feud is Insta-official as both women have unfollowed the other.
Jennifer Aydin unfollows Danielle Cabral on IG after the altercation which resulted in Danielle throwing a drink at Jennifer's head allegedly drawing blood. #RHONJ
(Credit: allrhonjfacts & @AllAboutTRH) pic.twitter.com/8bDKagZMB9

— Bye Wig, Hello Drama (@nosmokenomore) September 23, 2023
Rumors have circulated the internet that both women have been put 'on pause' pending an investigation.
View this post on Instagram

Bravoholics have come out in droves to support their favorite Real Housewife.
Danielle Cabral

still posting like her sh*t don't stink

why is Jen Aydin, the victim being put on pause bcuz of this maniacs actions

Jenn runs her mouth until someone has had enough.

Lets get 1 thing clear @BravoTV

reinstate Jennifer Aydin IMMEDIATELY & fire

#DanielleCabral

NOW she purposely got in Jen's face refusing to move & then smashed a hard plastic cocktail glass over Jen's head making her BLEED & BRUISE, that's assault & battery PERIOD

This is the second time in a year a cast member got violent on @JenniferAydin

yet you 1. Are not chastising them and 2. Are singling out Jennifer for no reason. Joe Gorga +

Danielle Cabral

both belong demoted ASAP

Why is Jennifer Aydin on pause for Danielle Cabral being violent @BravoTV

this is messed up, they didn't protect Jen after Joe Gorga attacked her last year at Bravocon either

About time

Danielle Cabral

learns she can't be violent, I hope Joe Gorga is paying attention too

Jennifer should not be paused whatsoever. It doesn't matter what she said, or that she had to get a premeditated nut job out if her face,

Danielle Cabral

committed assault & battery @bravotv

Danielle needs to be fired as Joe Gorga should have been half a dozen times over

I am sure it was Jennifer that was the cause of all this it's about time someone put her in her place

Ugh they both have young children this isn't okay.

I have literally never heard of them pausing cast in the middle of filming. There better be death threats involved for them to be going to this extreme. Cuz Louie should have been paused a long time ago
Do you think either or both women should be put 'on pause' from filming the rest of the season? Sound off below.
---