The Real Housewives Of DC: Where Are They Now?
Find out what happened to the first (and last) ladies of the nation's capital.
Ashley Hoover Baker November 28, 2022 1:41pm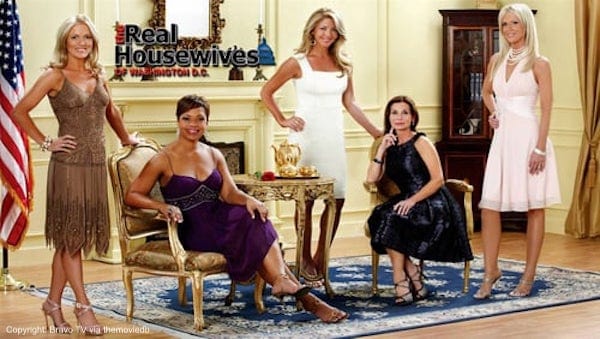 The Real Housewives of D.C. was a short but sweet part of the Real Housewives franchise.
The series only lasted for one season and was ultimately canceled because of a federal investigation regarding the supposed kidnapping of one of the Housewives (talk about drama!).
After the show, the Housewives all continued on very different paths. Check out what these first (and last) ladies of D.C. are up to now!
View this post on Instagram
The biggest change with Mary was probably her relationship status. After the series ended, so did her marriage.
Now, the lifestylist, producer, and philanthropist focuses on spending time with her 5 kids and running her interior design company, @maryamonsdesign.
View this post on Instagram

This former Housewife continues to run her modeling firm in D.C., The Artist Agency.
If any of the ladies were to return to Bravo for even a small amount of screen time, Lynda is probably the most likely one as she is reportedly friends with Real Housewives of Potomac star Robyn Dixon.
However, it looks like she's sticking to her low-key life for now if her personal Instagram account is any indication (she has a peak mom account where she almost exclusively posts low quality pictures of babies and nature).
View this post on Instagram

Cat's tag line on the show was, "I'm here for a good time, not a long time," and it certainly proved accurate. Cat is no longer living in D.C.; she moved back to England where her kids attend boarding school and also spends her time in Spain. After the show, this former Housewife published a memoir, Inbox Full, about her life pre-RHODC.
Like Lynda, Catherine also got divorced after the show, leading many to believe in the Real Housewives of DC marriage curse. 
Cat made news in late 2022 when she confessed to a fling with a 21-year-old Prince Harry when she was 34.
View this post on Instagram
The divorce curse continued when Stacie ended things with her husband as well.
Currently, she works for a real estate company  in Maryland. She's attempting to start or possibly already started some sort of empowering show called "Redesigning Your Life"?
It's hard to tell exactly what the project is, or if it even still exists, since Stacie is not active on social media.
Michaele Salahi
Michaele Salahi's biggest claim to fame is that she crashed a White House dinner her husband, Tareq.  I'm not going to lie, I still think that sounds very badass. All I've done was crash some stranger's bachelorette party for an open bar.
Soon after Michaele disappeared from our screens, she disappeared in person as well. Andy Cohen finally spoke out about the reason the show ended, siting the investigation and too many legal issues surrounding Michaele and Tareq.
The couple is now divorced (shocking), and Michaele has started a new journey, quite literally.  Michaele is now married to the guitarist from Journey, Neal Schon. It turns out she was never kidnapped in the first place; she had simply run off to be with a dude in a band. Honestly, who among us hasn't wanted to do that at some point? The couple has a joint Instagram account which is, like all joint social media accounts, certifiably disgusting.
Do you think RHODC should have been cancelled? Comment below!
---