RHOC Alum Tamra Judge Spills The Tea On Her And Vicki Gunvalson Joining Real Housewives All Stars Cast
Will one of these RHOC alum join the RHAS cast as the eighth housemate?
Ashley Hoover Baker April 27, 2021 12:30pm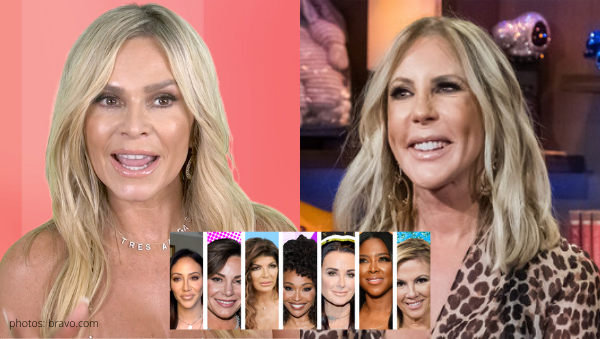 Real Housewives of Orange County alumni, Tamra Judge joined S'More Date creator Adam Cohen Aslatei (ACA) on episode 90 of S'More Live on Instagram and dished on the rumors of her being the eighth cast member of the Real Housewives All Stars show.
She even spilled Vicki Gunvalson's casting tea!
The rumor:
After the official cast of the first ever Real Housewives tropical crossover show was confirmed, rumors circulated that the eclectic cast made up of OGs from Real Housewives of Atlanta, Real Housewives of Beverly Hills, Real Housewives of New Jersey, and Real Housewives of New York would be joined by another Real Housewife.
An insider spilled to The Sun, "An 8th person is going to be added halfway, and will be teased as some sort of twist."
Tamra tells it like it is:
After @smoredate's Adam asked if Tamra or the OG of the OC was slated to appear as the surprise houseguest, the CUT Fitness owner put the rumor to bed.
"It's neither one of us. I don't even know if it's true. I do know that I'm getting text messages like 'Are you going to Turks and Caicos' and all this stuff."
"I literally reached out to Andy [Cohen] today and said, 'What's going on? I'm getting  these weird messages from people.'"
"'He's like, 'Yeah, we all are. Like, something happened and everyone in the cast is getting messages. I don't know if something was hacked or something.'"
Tamra clarified, "But, no, I'm not" going to be on RHAS.
View this post on Instagram
Watch the full interview for yourself:
Tamra also gave her opinion on her former co-star Braunwyn Windham-Burke's marital status and commented on Real Housewives of Salt Lake City star Jen Shah's alleged criminal activity.
View this post on Instagram
GIMME S'MORE:
Check out S'More Date on Instagram for weekly celebrity interviews.
Also, download the S'More Date app! Like the show Love Is Blind, S'More Date, builds meaningful connections between people before they see one another.
Since we know neither Tamra nor Vicki are joining the All Stars cast, who do you think will be the 8th housewife added? Drop names in the comments!
---