Former RHOC Star Kelly Dodd Makes Transphobic Comment About Heather Dubrow And Her Kids
"I realized why HD's kids are confused."
Ashley Hoover Baker April 12, 2023 1:41pm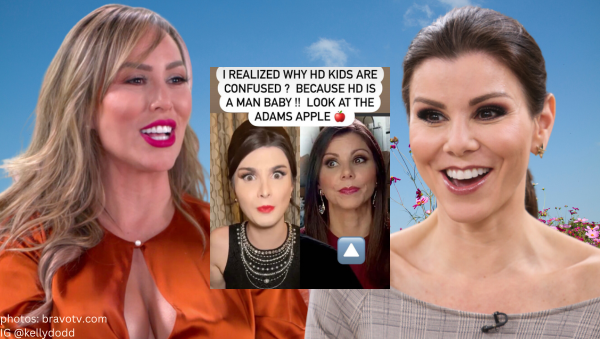 Hey Siri. Play Obsessed by Mariah Carey …
Terminated Real Housewives of Orange County star, Kelly Dodd, is still capitalizing on her time as a Bravolebrity.
Years after Kelly was fired, the YouTuber posted a side-by-side photo of Bud Light Influencer Dylan Mulvaney and Heather Dubrow to her Instagram story paired with the caption, "I realized why HD's kids are confused."
The 47-year-old added, "Because HD is a man baby!! Look at the Adams Apple."
ICYMI, Dylan famously transitioned on social media recently prompting the anti-trans community to cancel Bud Light for hiring a trans person as a spokesperson.
I forgot Kelly Dodd was such a vile person. #transphobic #rhoc pic.twitter.com/NdhzjjMe7J

— OnThisDayENT (@OnThisDayENT) April 12, 2023
History repeats itself:
The has-been reality tv star has a history of making transphobic comments, even offering 'apologies' after receiving backlash.
Never forget the viral Cameo video of an ignorant Kelly disrespecting a person's preferred pronouns. "This is Jennifer 'she/her,' I don't get this."
"You're either a boy or a girl."
Her transphobic rant continued, "You're born a girl or a boy. I don't get it. You're Jennifer. I'm sorry, I don't give a f*ck."
View this post on Instagram
Do you think Kelly has this much hate in her heart or is she just looking for attention? Drop your opinion below.
---