Fans Respond To Raquel Leviss's "Team" Using Mental Health As A Scapegoat For 'Scandoval'
"Stop weaponizing mental health. This is gross, if this was about her healing, truly, there wouldn't be a need for statements because PR wouldn't be the concern."
Ashley Hoover Baker May 2, 2023 9:49am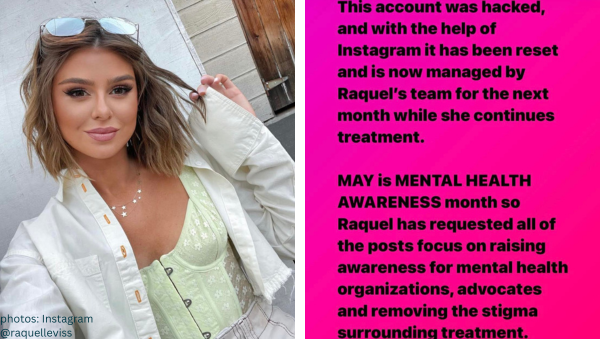 Fans of Vanderpump Rules were quick to respond to Raquel Leviss's Instagram story claiming her IG account was "hacked" and has since been "reset."
Keep in mind, the alleged "hack" involved all of the SURver's highlights being erased except for Tom Sandoval dressing as Raquel from day 2 of BravoCon 2022 for Halloween.
ICYMI:
Raquel (legal name Rachel) has granted her "team" to manage her Insta account for the next month "while she continues treatment."
The post included black text on a hot pink background that clarified that Raquel's team was asked to post about "removing the stigma surrounding [mental health] treatment" for the month of May, which just happens to be Mental Health Awareness month.
View this post on Instagram
Bravoholics aren't having her excuse
The Bravosphere showed up to drag Raquel for trash, but, more importantly, to call her out for using mental health as an excuse for sleeping with her her "friend," Ariana Madix's boyfriend of nine years.
"Her PR team needs a better PR team"

"So the hacker only added and deleted highlights?"

"This is the funniest thing to come out of her PR team since her TMZ fake pap interview outside the nail bar 😂😂😂😂😂😂😂"

"Tom and Rachel gave zero f about Ariana's mental health after she lost her dog and grandma. So we don't care about Rachel's mental health"
"No one feels sorry for you Rachel stop playing the victim game"

"Even if she has mental health issues, you would walk away from all this drama but how was she sighted a few days ago out with Tom ??? What part of treatment was that ? I just feel she's minimizing the difficulties people with serious mental health issues, are actually dealing with 🤦🏼‍♀️ she could have mental issues yes, but it appears that she's not seeking actual help… just digging herself a deeper hole! She's loving the attention either way; her goal was to be "known" good or bad… she reached her goal in abundance! Now go get your help and stay off the show… unless there's a spin coming to point all fingers at Tom, and change the narrative? Victim card perhaps? But in the end she and Tom will both be labeled as home wreckers for life! There's no running from that dear Rachel… so, she should enjoy her notoriety for now because no one is going to pardon her behavior, or Tom's! especially when the episode airs, where she lies directly to Ariana's face when confronted about Tom having an affair 🤷🏼‍♀️ let's see how this plays out… next season should be interesting to say the least lol 😆"

"Stop weaponizing mental health. This is gross, if this was about her healing, truly, there wouldn't be a need for statements because PR wouldn't be the concern.

"As someone who has been to Miraval, she is not getting mental health treatment there. 🤷🏽‍♀️"

"Anyone remember when she tried to suggest she had autism as this whole thing was imploding? 😂"
View this post on Instagram
Who do you think Raquel's "team" is? Do you believe she's getting legitimate mental health services? Do you think she's using a mental health crisis to distract from the choices she made? Sound off in the comments.
---