Update! Pet Psychic Gives Hope To Paris Hilton Regarding Missing Dog
Where's Ace Ventura: Pet Detective when you need him?
Ashley Hoover Baker October 6, 2022 7:22am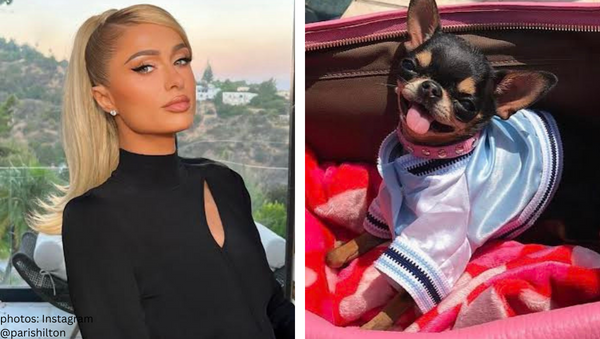 Updated post: 10/6/2022 @7:23
It's been about three weeks since Paris Hilton's dog, Diamond Baby, became missing.
The socialite-turned-reality tv star told TMZ  she remains hopeful … though clearly distraught.
Paris has spoken "with credible mediums and pet communicators who have solved cases and found animals" who have all said the same thing…
"She's alive and that someone has her and that she's safe."
---
Original post: 9/20/2022 @18:40
Missing dog:
Paris Hilton has "been at a loss of words" since her pup, Diamond Baby, went missing.
After pounding the pavement – unsuccessfully- Paris has taken an uncommon (at least in most places aside from Beverly Hills) approach to find Diamond Baby.
"We have hired a pet detective, a dog whisperer, a pet psychic and looking into dog finding drones now. I'm doing everything in my power to get her back. 😢"
Relatable AF:
The Paris In Love star tugged at her followers' heart strings as she begged for help finding her beloved fur baby.
"Anyone who has ever loved a pet and lost a pet will understand this pain that I'm feeling – My heart is broken 💔 I have been in tears, so sad and depressed.😔 I feel like part of me is missing and nothing is the same without her here."
"Diamond Baby is my everything, truly like a daughter to me. We were inseparable, she was my best friend and always by my side. 👱🏼‍♀️🐕."
"If you have ANY tips about Diamond Baby's whereabouts or feel like you have seen her – Please reach out to the email address: [email protected] There will be a big reward for her return and NO questions asked. Please, please, please email if you know ANYTHING and please keep an eye out for my baby.🥺🙏."
Security concerns:
Naturally, Paris was hesitant about providing too much personal information, but she knew time was of the essence.
"I've been scared to put out an APB to the public for her because people can be cruel and I worry about her safety but I'm desperate and the more time that passes, the farther away I feel from the chances are of me getting her back. 😢"
View this post on Instagram
If you had the means, would you hire a pet detective in an instance like this? Sound off below.
---