Paris Hilton Explains How She Healed After Trauma With The Help Of Her Mom, Kathy Hilton
Shooting 'Paris In Love' with Kathy Hilton brought Paris peace.
Ashley Hoover Baker January 24, 2022 12:04pm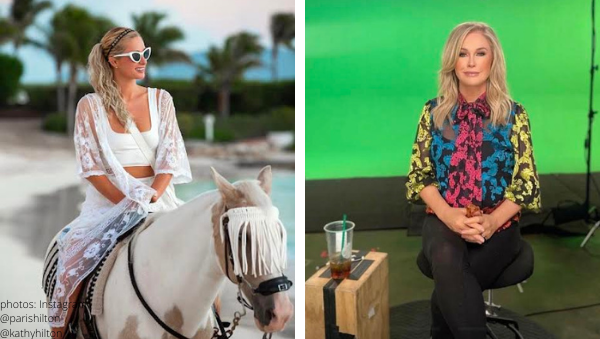 Paris Hilton is sliving her best life!
The Simple Life alumni opened to the NY Post about her life post-boarding school trauma and how time spending time with her mom, Real Housewives of Beverly Hills friend of Kathy Hilton, helped her heal.
Moving on from the character Paris created:
Reflecting on her early aughts reality tv stint with Nicole Richie, Paris concluded she was "underestimated" as "no one knew the real me before."
"A lot of why I created the character was for The Simple Life, but it was also kind of a mask, or a protective shield because I didn't trust anyone. And after my [2020 documentary 'This Is Paris'] I learned so much about myself and started talking about all of the traumatic experiences I've been through."
"It was definitely hard to talk to my mom about everything that I went through because it felt traumatic and painful to speak about. So, we had never talked about it."
Family first:
"It's just been such a healing experience. I finally know who I am. I had an amazing time shooting the show ['Paris in Love'] with my mom, and spending time with her and my sister."
"During the show was when we started going to therapy together. I know that she had no idea what was happening, just like every other parent who sends their children to these types of schools. It was really healing for both of us to finally talk about that, and lift that weight off my shoulders before I got married and moved on to the next phase of my life."
"What I went through affected my entire life and the way that I am. Now, I've learned to trust and open up my heart. Letting someone in, with Carter [Reum], has been the most incredible experience of my life. I've never felt happier."
The old Paris still comes out:
Paris clarified that the "character" she created on The Simple Life still exists inside her.
"I've always been someone who likes to play into it and be entertaining in that way during certain situations. So, I am myself now, but sometimes I will play into it a little bit. Or if I get shy, my voice will go higher. It's something I've been doing for so long that it's hard to completely not do. I've gotten so used to it.
"But at least now I can show my true self as well."
Want to stay up-to-date on all things reality tv?
Check out Zachary Reality for the latest from all of your favorite reality shows!
What do you think is next for Paris? Sound off in the comments!
---