Paris Hilton's Husband Has A Child With Mel Gibson's Ex, Laura Bellizzi
"He [Carter Reum] does not have a traditional father-daughter relationship with her."
Ashley Hoover Baker November 15, 2021 12:52pm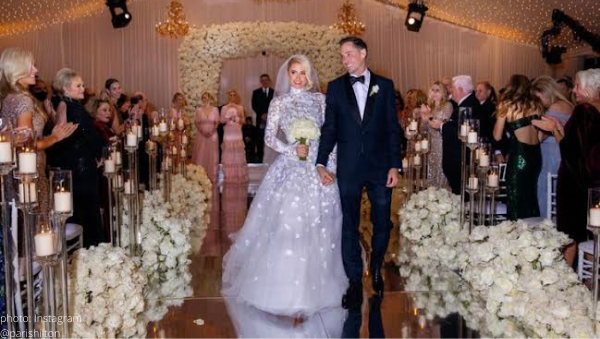 The not-so Simple Life:
It was revealed by Page Six that reality TV pioneer, Paris Hilton's new husband has a nine-year-old child he has met only once.
Baby daddy:
The mother of Carter Reum's child is Laura Bellizzi, who you may remember from the short-lived VH-1 show, "Secrets of Aspen."
Laura is also known for dating actor Mel Gibson, and currently resides in California with the child.
The official statement:
A spokesperson for Paris's hubby confirmed the rumor.
"The people who this story matters to have known about it for 10 years. Carter supports this child. While he does not have a traditional father-daughter relationship with her, he has provided for her since she was born, and will continue to do so."
"The millionaire venture capitalist signed a document acknowledging he was the father, despite never taking a paternity test, legal records filed last year and seen by The Post show," per reports from Page Six.
The child's wish:
The source spilled to the online news source that Carter's daughter only wants to "know her daddy."
"She just wants to really complete the missing pieces of her puzzle."
"She's at that age where self-identity is so important, and children want to know who they are and where they come from. It's important for him to help her with that."
"It's not about (Reum) or the mother. It's about making the child whole. She is absolutely an amazing little girl. She has so much love to give. And she wants to give it to him, his family and whoever he chooses to love."
Feeling left out:
Sure. Carter sends money to his daughter, but it seems the child seeks her dad's time and attention.
She has been "triggered" by seeing the coverage of her dad's wedding to the socialite because she feels "left out of her father's life."
To make matters worse, "she saw the articles of Paris and Carter talking about starting a family. She felt tremendous rejection and felt left out. She wants to have a relationship with him," added the insider.
A second source told Page Six, "I cannot begin to describe the pain she feels."
"She is of an age now where she is cognizant and wants her paternal family to hear her and know her. He may not claim or love her, but she claims and loves him and his family."
Do you think Carter told Paris of his estranged daughter, or did she learn with the rest of us? Sound off in the comments.
---