Lisa Barlow Confirms Monica Garcia Threw A Shoe At Angie Katsanevas
"Henry was very uncomfortable."
Staff October 19, 2023 8:52am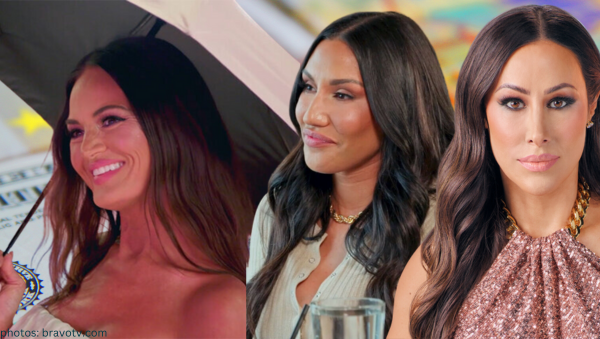 Real Housewives of Salt Lake City star, Lisa Barlow, set the record straight regarding a rumor that things got even more heated between Monica Garcia and Angie Katsanevas at Easter dinner.
Bravoholics watched Monica and Angie go back and forth on the show, but the RHSOLC newbies continued their spat on social media after things allegedly got physical between them.
Monica came out of the gate accusing Angie of behaving inappropriately in front of her kids.
"Say what you want about me. Whore, rat, disrespectful, home wrecker, spoiled, broke, an assistant, whatever you want to say. I let everybody run with it, but I MADE SURE my girls were not there for that situation. That did not happen in front of my kids. Go through the stills."
Angie clapped back claiming, "Production did [Monica] a favor. We don't need to see stills to know you did this in front of your kids."
This is where it gets even messier …
"Don't forget you almost hit my two year old niece in the head with your shoe when you threw it. And STFU with your lies about Shawn."
Lisa chimed in to cryptically add, the "Truth sets you free."
A social media user asked for clarity, "Lisa can you confirm a show was thrown at the Easter brunch?"
Baby Gorgeous confirmed a shoe "was thrown and Henry was very uncomfortable."
View this post on Instagram
What's your opinion of Monica throwing a shoe at Angie K? Sound off below.
---