Summer House's Lindsay Hubbard And Carl Radke Explain What They Think Went Wrong With Danielle Olivera
"There was just not one thing that was this obvious stake in the ground. It was definitely something that evolved over time."
Ashley Hoover Baker February 13, 2023 11:13am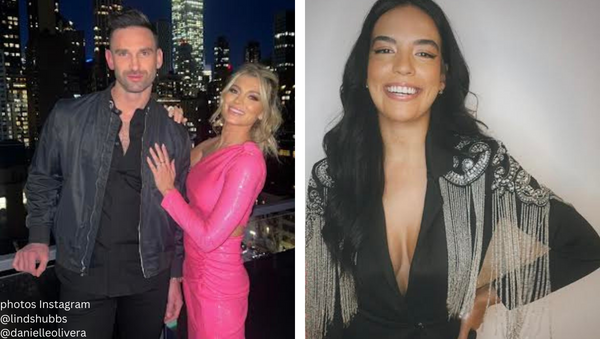 Summer should be fun!
Unfortunately for Lindsay Hubbard and Danielle Olivera, this summer may turn out to be more awkward than exciting since their friendship fell apart on the seventh season of Bravo TV's Summer House.
According to reports from People, Lindsay is "still processing the break in their friendship and trying to figure out how to move forward."
"I don't really lose friends in my life. So for me, this hurt a lot and it's going to be really, really hard for me to relive and rewatch this."
"But I'm hopeful that maybe it can teach us some lessons and we can somehow find some common ground at the end of it to where we can exist in each other's lives, however that may be, however we both feel comfortable," continued Lindsay. "So that's what I'm hoping for."
What went wrong?
Still unsure of the exact catalyst that damaged Lindsay and Danielle's friendship, Hubbs recalled feeling things changed when she started dating their Summer House-mate, Carl Radke.
Lindsay elaborated, "There was just not one thing that was this obvious stake in the ground. It was definitely something that evolved over time."
"And then there was a moment of us getting engaged — that was the straw that broke the camel's back."
Carl's hot take:
The Bravosphere's sexiest teetotaler gave insight as to how he tried to respectfully keep Danielle in the loop.
"I do talk to Danielle and kind of give her a little bit of a heads-up about some of my plans. I really tried my hardest to be respectful."
Keep in mind, the Summer House teaser featured a convo of Danielle telling L. Hubbs that getting engaged to Carl would be "crazy pants."
Clearly, Carl felt this was unfair considering "how supportive they were of Olivera's previous relationship with Robert Sieber."
Carl continued, Danielle "moved in with Robert after two, three months of dating. We never were like, 'That's crazy pants.'"
"This never came out of our mouth. It's like we were happy for her. So it is a little interesting when you compare the two."
House party problems:
Lindsay admitted that going through this friendship drama with Danielle was felt by all of the Summer House cast.
"It's hard because it doesn't really involve anyone else, but you're living in a house together so it actually does involve the whole house and it gets difficult."
"But what can you do? I can either do my job as a reality star and tell you how I'm feeling and take you on the journey of my emotions, or I can play fake nice with everyone just because we live in a house. And I choose the former."
**Lindsay, we love you for it!**
Do you think Lindsay and Danielle's friendship is able to be mended? Drop your prediction off below.
---