Kylie Jenner's Ex Tyga Supports Travis Scott At First Show Since Astroworld Disaster
Ashley Hoover Baker March 28, 2022 2:48pm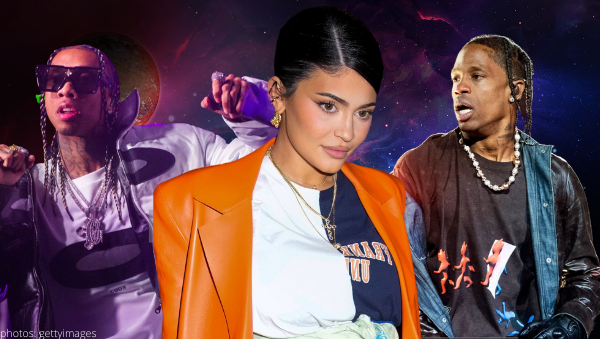 Eskimo brothers stick together:
Over the weekend, Travis Scott performed in Los Angeles at Darren Dzienciol and Richie Akiva's Oscars 2022 Party- his first gig since 2021's Astroworld disaster that left ten dead and hundreds injured.
Though there was no sighting of the controversial rapper's baby mama, Kylie Jenner, an old (-ahem-) friend of the mother of two was in attendance…Tyga.
The 'Taste' rapper who dated Kylie between 2014 and 2017, was spotted in the VIP section at Travis' show during the Academy Awards soiree.
According to reports from Us Weekly, Tyga "stood up to listen to Travis and then would sit back down."
"[Tyga] could [have] left and gone to another room but he chose to stay in the main room to watch his performance."
Never forget:
Kylie's baby daddy headlined the Astroworld Festival in which ten lives were lost, in addition to the hundreds injured during the chaos.
CNN
reported that Astroworld 2021 attendee, Sarai Sierra, "saw about 20 people who could not breathe, including one person who suffered a seizure before her eyes."
"It felt like we were drowning in a pool filled of just people," recalled the concert goer.
A prior Travis-ty:
The 2021 Astroworld Festival wasn't the first time Travis ignited caused fans 'rush' the entrance's secturity to enter the festival's grounds.
CNN
reported, "Three people were trampled and hospitalized" at the rapper's 2019 Astroworld Festival.
"Officials ramped up security after the 2019 trampling incident, gearing 528 Houston police officers at the concert and an additional 755 private security personnel."
Travis' pattern:
According to Daily Mail, Travis Scott "has a history of inciting mayhem at his notoriously rowdy concerts," and has "previously pled guilty twice to disorderly and reckless conduct charges."
Do you think the Keeping Up With The Kardashians alumni will continue to stand by her man? Sound off in the comments.
---