Kylie Jenner Sits In Audience As Irina Shayk Models The Same Lion Head Dress She Is Wearing
Ashley Hoover Baker January 23, 2023 7:28am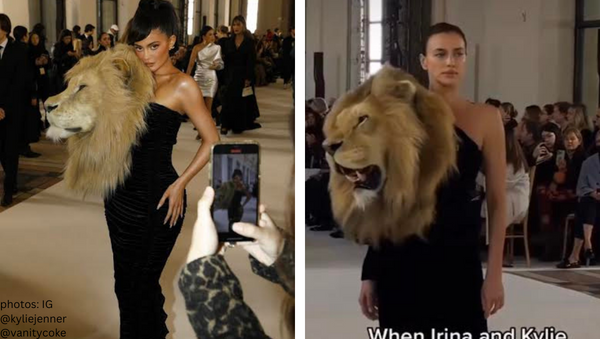 TASTE or waste?
Remember on Sex and the City when Carrie Bradshaw fell on the runway becoming 'fashion roadkill?"
I'm going to choose to remember this example as 'fashion roadkill,' and not the latest lewk from the 2023 Paris Haute Couture Fashion Week donned by both Kylie Jenner and Irina Shayk … at the same event.
The gown in question? An off-shoulder floor-length black gown complete with a giant *faux* lion head placed on the chest. It appears as if they were aiming for a live-action production Lion King, but making it fashionable. Spoiler alert- it's a miss.
*For the record, no animals were harmed making the following dresses, according to the designer, Schiaparelli. However, many have taken the comment section to express how dangerous glorifying trophy hunting can be for animals and for the environment.*
The dress:
Both the model and the Keeping Up With the Kardashians alum wore the same black dress to the event in Paris, although Kylie was sitting in the audience watching Irina walk the runway in the same gown.
The look on Kylie's face from the crowd as she tries not to throw a tantrum is priceless.
View this post on Instagram
In a divided world, can we all agree this is ugly AF? Drop your opinion off below.
---