Dolly Parton Comments On Kim Kardashian's Bikini Clad Instagram Post
Did anyone else get major Kris Jenner vibes from Dolly's comment?
Ashley Hoover Baker July 17, 2021 11:32am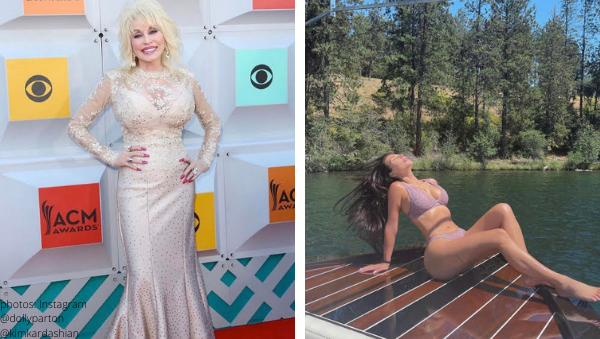 Pour yourself a cup of ambition…
America's national treasure, Dolly Parton, channeled reality tv royalty, Kris Jenner when commenting on Kim Kardashian's bikini-clad Instagram post.
Serving body ody ody:
Kim took a moment away from soaking up the sun to post a thirst-trap photo to the 'gram with the caption, "Don't get too busy making a living that you forget to work on making a life- Dolly Parton."
The future ex-Mrs. West added, "Friendly reminder to always take a little time for yourself" to the post.
**Thanks for the advice on working 9 to 5, Kim. Enjoy your vacation!**
Instead of simply scrolling by like this bitter Betty, Dolly responded to the post that both quoted the country music legend and celebrated the brunette beauty's love of her bangin' bod.
Thanks to Instagram's @commentsbycelebs for the screenshot!
View this post on Instagram
Does Dolly get the reference?
The singer/songwriter's comment is strikingly similar to the iconic words of encouragement Kim's momager Kris uttered when her second daughter posed for Playboy Magazine.
Do you think Dolly was making a play at Kris' classic catch phrase or was it a fun coincidence? Sound off in the comments!
---