Southern Charm's Kathryn Dennis Proudly Flaunts Stretch Marks In Bikini Shot
"Be proud of your stretch marks!! I hope I get more one day."
Ashley Hoover Baker April 8, 2021 3:57pm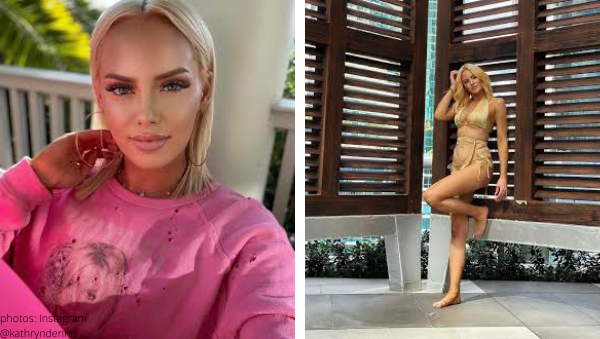 Kathryn Dennis is here to share her body positivity with the internet.
The Southern Charmer took to Instagram to share a sizzling snap of herself in a gold bikini.
Very Princess Leia, imho….
The post:
"Be proud of your stretch marks!! I hope I get more one day."
(Kathryn timed this post PERFECTLY following the unedited photo debacle surrounding Khloe Kardashian….)
View this post on Instagram
Kathryn's evolving appearance:
The mother of two opened up to her Insta followers in late 2020 regarding her latest cosmetic procedures.
Bravotv.com reminded readers of the work Kathryn had done. "In addition to getting Restylane filler injections to plump up her pout, Kathryn received Jeuveau (aka "Newtox"), a new alternative to Botox used to smooth the appearance of moderate to severe wrinkles. The injectable filler is often used to target frown lines and forehead wrinkles."
The sexy single also shared before and after photos of her stomach from her CoolSculpting sessions. (My quarantine body WISHES!!!)
Kathryn's custody battle:
The ongoing custody saga between Kathryn and her baby daddy, Thomas Ravenel, recently took a drastic turn.
Last month, a judge ruled that TRav would get full custody of their two kids, while Kathryn would be allowed supervised visits over the weekend. Get the details here.
Rumors spread that the reason Kathryn lost her shared custody is due to ALLEGED drug abuse.
There was a recent 'blind item' that hinted that Kathryn is hooking up with someone in a drug cartel.
Alexa, play the theme music from 'Narcos'…
View this post on Instagram
Does anyone else find it funny that Kathryn boasted about posting an unedited photo, yet she's had multiple procedures to enhance her looks? Sound off in the comments!
---