Karen Huger Disses Robyn Dixon For Not Being Honest About Her Marriage With Juan Dixon
"Robyn, you've lied all seven seasons..."
Staff November 6, 2023 2:08pm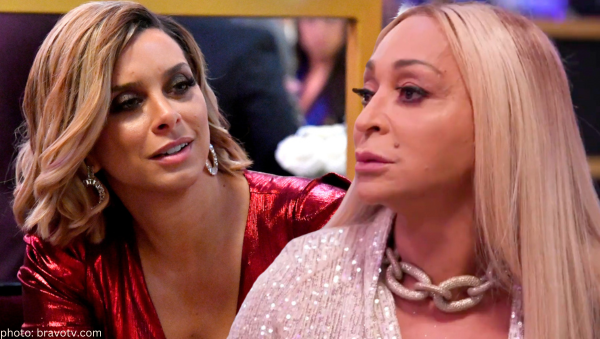 The drama between Real Housewives of Potomac stars Karen Huger and Robyn Dixon is still hot going into season 8.
During a RHOP panel hosted by Bachelor Nation's Rachel Lindsay, Karen dished on Robyn's marriage to Juan Dixon.
"It was that freaking hard to pull the truth out of this woman" regarding Juan's infidelity.
Karen continued, "Robyn, you've lied all seven seasons and then sell" the truth behind a Patreon pay wall.
"Then you called my name on Andy Cohen's show like, 'I'm waiting for Karen to out it.'"
"No, honey. You out it. It's your life."
For a moment, Karen led Bravoholics to believe there could be resolve between her and Robyn. "We worked through it. There is great conversation between Robyn and I."
"We banter back and forth."
Karen's moment of tolerance for Robyn was short lived, as she immediately continued to slam her co-star.
"The only person on this platform who makes no fucking sense is Robyn Dixon."
Robyn claimed the Grande Dame is the one who "makes no sense" and that Karen is "extremely obsessed" with her.
"It's actually pretty scary," declared Robyn.
View this post on Instagram
Where do you stand on Robyn and Karen's conflict over Robyn withholding information from the show? Sound off below.
---