Kanye West Won't Work With Kid Cudi Because Of His Friendship With Kim Kardashian's Boyfriend Pete Davidson
Ashley Hoover Baker February 13, 2022 4:30am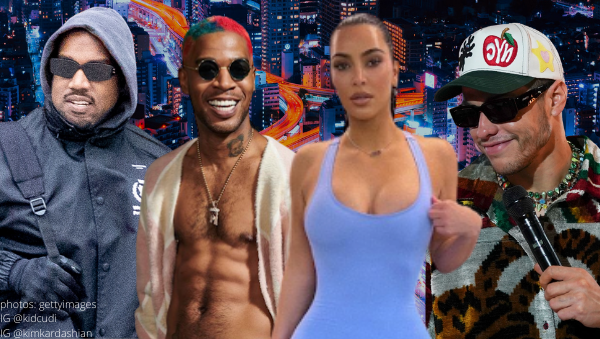 Since Ye's phone has yet to be confiscated, the rapper's social media rampage continues.
The latest person to get called out by Kanye?
…Kid Cudi.
'Ye takes it to the 'gram:
In what appears to be a handwritten note, Kanye clarified his beef with Kid Cudi on his Instagram page.
"Just so everyone knows Cudi will not be on Donda because he's friends with you know who."
You know who would be SNL comedian Pete Davidson– his estranged wife, Kim Kardashian's new boyfriend.
Kid Cudi kicking it with 'you know who.' #KanyeWest #KidCudi #PeteDavidson pic.twitter.com/io48Zzb57B

— OnThisDayENT (@OnThisDayENT) February 13, 2022
Kid Cudi laughed at Kanye's attempted shade.
"Too bad I dont [sic] wanna be on ur album u f*ckin dinosaur" followed with a cry/laugh emoji.
He continued, "everyone knows I've been the best thing about your albums since I met you."
Later in the note, Kanye took s a jab at the 20-year-old singer/songwriter, Billie Eilish, leaving her with an ultimatum– she either apologize or 'Ye won't perform at Coachella. 
ICYMI:
Before Kid Cudi and Billie Eilish, Kanye utilized his social media -as of late- to call out his baby mama over her shared TikTok page with their eight-year-old daughter, North West.
Kanye screamedwrote, "SINCE THIS IS MY FIRST DIVORCE *(omg the shade)* I NEED TO KNOW WHAT I SHOULD DO ABOUT MY DAUGHTER BEING PUT ON TIK TOK AGAINST MY WILL ?"
After Kim publically responded saying she wants family matters to remain private AND that she is her children's "main provider," Kanye was provoked.
"What do you mean by main provider ?"
Calling out his ex, Kanye claimed "America saw you try to kid nap my daughter on her birthday by not providing the address You put security on me inside of the house to play with my son then accused me of stealing I had to take a drug test after Chicago's party cause you accused me of being on drugs."
And don't forget about this now-deleted post. Thank goodness screenshots live forever…
But can someone enlighten me on the 'hit' put on Kim that I missed? #KimKardashian #KanyeWest pic.twitter.com/FnVzaVWcQI

— OnThisDayENT (@OnThisDayENT) February 6, 2022
 It's not an easy task!
Check out Zachary Reality for the latest from all your favorite reality tv stars and shows.
Who do you think will be Kanye's next social media target? Drop names below!
---