Kim Kardashian Gets Mom-Shamed For Letting North West Wear Hoop Earrings!
Try and Keep Up!
Lara Sophia September 4, 2019 9:00am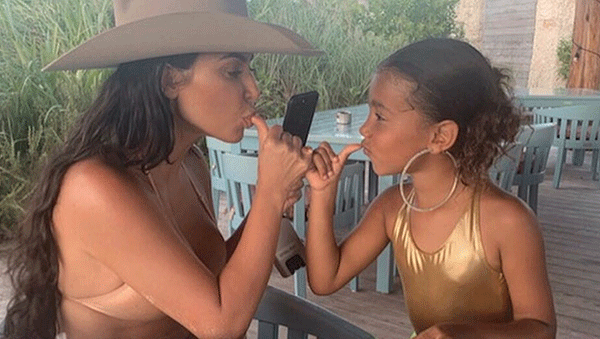 Here's everything that went down with the KarJenner clan this week!
Kim Gets Mom-Shamed for Letting North West Wear Hoop Earrings
Kim Kardashian and her 6-year-old daughter North "pinky swear" to be "besties for life" in a sweet photo on Instagram. However, mom-shaming trolls quickly found fault with the earring North was wearing in the photo. Said trolls claimed North was too young to be wearing large hoop earrings.
See just a few of the comments Kim received on the photo below!
Source: Cosmopolitan
Khloe Shuts Down Accusations She Got "Nasty" Lip Fillers By Disabling Instagram Comments
The Revenge Body star shared a slideshow of photos on her Instagram and got quite the reaction from her fans so much so that she had to disable the comments on the post. In an ad, showing off her glowing skin from Skin Thesis, Khloe Kardashian showed off her skin and very pouty lips, which lead many fans to believe she got her lips injected once again.
The nasty comment on Khloe's post ranged from "God what happened" to "I'm sorry but your lips are overdone, it looks nasty" and "If you can't close your lips 👄… too much filler."
No wonder Khloe shut the comments down!
Source: Cosmopolitan
Kim Reveals That She and Kanye Are Done Having Kids
Kim and Kanye West have four gorgeous children -North West, 6, Saint, 3, Chicago, 1, and newborn son Psalm, 3 months.  So it's not shocking that the KUWTK star recently revealed that she and her husband are done having kids. Kim announced this during a "Ask Me Anything" Q& A on Instagram, a feature of the app she claims she had "never done before."
A fan asked KKW Beauty mogul if she wanted to have any more kids to which Kim replied, "I LOVE my babies so much but 4 is all I can handle with how busy I am, and each one of my babies needs so much attention."
Source: USA Today
Sofia Richie Dubs Kylie Her Best Friend
Sofia Richie and Kylie Jenner have quickly become two peas in a pod after reconciling their longstanding friendship in late 2018/early 2019.
However, it turns out there friendship is a lot closer than anyone could have imagined.
In a video that Kylie posted on her Instagram showing off her very extra 22nd birthday extravaganza, Sofia can be overheard calling Kylie her BFF.
"Kylie you're 22, and you've always been one year cooler than me. But I love you, you're my best friend. I don't know what life would be like without you," Sofia said in the clip.
Last month, a source close to the Kar-Jenners revealed some details about Kylie and Sofia's friendship to Us Weekly.
Sofia and Kylie have "gotten a lot closer as of late now that the Kourtney, Scott and Sofia drama has died down. Once any drama between Kourtney and Sofia blew over, Kylie felt more comfortable spending girl time with Sofia again."
The source added, "Kylie and Sofia have always run in the same circle and are very close in age, so they've bonded a lot through the years. They've always been in the limelight, lived very similar lifestyles and grown up around a lot of the same people."
Source: Cosmopolitan
Kim Reveals New Name For Shapewear Line and Launch Date
Kimono who? Kim went back to the drawing board when it came to naming her all-inclusive shapewear line after receiving push back from fans and critics for accused her cultural appropriation after initially naming the line Kimono.
Now Kim is calling her shapewear line, SKIMS for short but SKIMS Solutionwear officially. She explained this all in a post on Instagram saying, "My fans and followers are a huge inspiration to me – I'm always listening to their feedback and opinions, and am so grateful they shared their ideas for a new brand name. After much thought and consideration, I'm excited to announce the launch of @SKIMS Solutionwear™ coming September 10. I love the idea that the pieces will be the closest thing to someone's skin, skimming with amazingly soft and supportive fabrics which accentuates the best parts of our bodies.  Available in sizes XXS – 5XL, SKIMS Solutionwear™ is for everybody. SKIMS.COM. #ShowYourSKIMS."
SKIMS is available starting September 10th, 2019.
Alice Marie Johnson Becomes A Model For Kim's SKIMS Solutionwear
In other SKIMS news, Kim shocked everyone by having Alice Marie Johnson as one of the models for her new shapewear line.
Alice is the former inmate that Kim got released from prison with the help of President Trump, who commuted Alice's prison sentence in June 2018.
In the ad, Alice says she "feels free" when wearing SKIMS. However, some have called Alice's participation in the has received mixed reviews. Some have applauded Alice's appearance while others called it "exploitative."
Source: NY Daily News
---