Jennifer Coolidge Confirms She Would Join Real Housewives Franchise
Get Andy Cohen on the phone STAT!
Ashley Hoover Baker January 10, 2023 9:09pm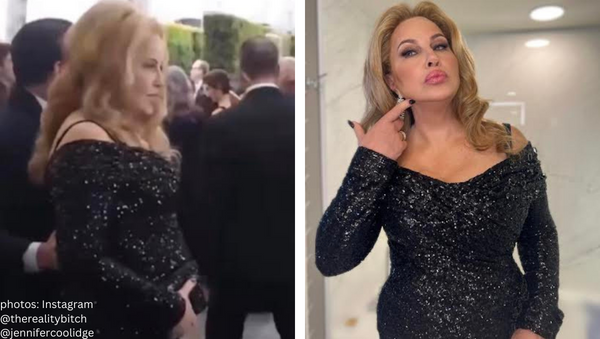 Fans of The White Lotus and the Real Housewives lose their mind when Jennifer Coolidge confirmed she would appear on Bravo's iconic franchise.
Page Six scored an interview with the Legally Blonde legend on the red carpet of the 2023 Golden Globe Awards.
After the reporter asked a super awkward question regarding the American Pie films, she asked the question many of us Bravoholics didn't know we had … "Would you ever join Real Housewives?"
**Now this is journalism**
Just as Jennifer proceeded for down the press line, the reporter passionately called after her asking if the character actress would consider joining the Bravosphere.
Without pause, The Watcher actress exclaimed, "YES" giving me a thrill I haven't had since season 2 of The White Lotus concluded.
View this post on Instagram
Fans react:
The majority of the commenters were thrilled with the revelation.
"Someone call Andy 👏👏👏👏"
"Get her on housewives ASAP!! Yes!!"
"Yes, join RHOBH !!"
"We neeeeeeeeeeed thissssssssss. Idc what franchise!"
"she is housewife material for dayzzzz"
"I want to see her and Kathy hang out!!!!"
"Jennifer Coolidge could actually resuscitate the dying Housewives franchises. Too bad she can't be an every single city."
"just her, kathy and a camera would give us zero percent toxicity, 100 percent delusion and detachement and 1000 percent entertainment"
Not everyone thought the actress should pivot to reality tv.
"Nooo, don't join real housewives-your too good for that!"
"Are you kidding? No Golden globe Movie Star would stoop to Housewives…that's for D list actors"
On a side note, congratulations to Jennifer for earning the 2023 Golden Globe for her performance as Tanya McQuoid in The White Lotus season 2! We loved every second of the series.
Would you like to see Jennifer join a Real Housewives franchise? Sound off below.
---