Family Karma's Vishal Parvani Shades Brian Benni In Instagram Post
"Happy Easter from my Fave Family members to yours!"
Ashley Hoover Baker April 9, 2023 3:26pm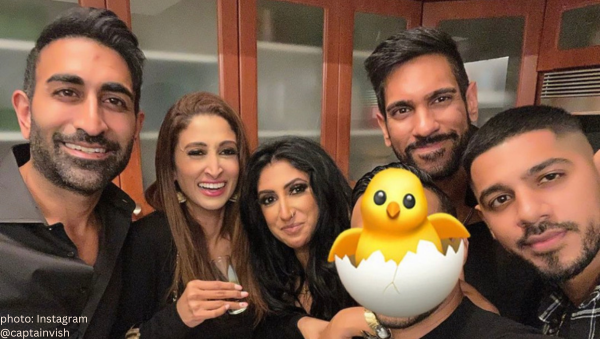 There is a feud in the Family Karma friend group between Vishal Pavarni and Brian Benni.
On Easter Sunday, Vishal posted a photo of himself alongside co-stars Anisha Ramakrishna, Bali Chainani, Amrit Kapai, Rish Karam, and a blocked-out Brian on Instagram with the caption, "Happy Easter from my Fave Family members to yours!"
Brian clapped back at Vishal's shady photo in the comment section simply writing, "Corny." (Speaking of corny, peep *pun intended* Brian's hair underneath the chickie emoji.)
View this post on Instagram

While it is unknown why Vishal is upset with Brian, fans took to the comments of the newlywed's post to share their opinions of the edited photo and shady caption.
"At your big ol age…..come on now. I'm sure you've got a pic without Brian. But happy Easter to EVERYONE in the picture. Except Richi because he hurt our Monica"

"Why not just post a different picture without him in it, instead of being petty at almost 40 🙃"

"Should've put it over Rishi's face if I'm being honest 🤭"
The source of the feud is a mystery within the friend group as well. Anisha asked Vishal to "Spill the chai" in the comment section while Amrit wrote, "Oh man I need the 🍵☕️🫖."
What do you think of Vishal's post? Sound off in the comments.
---