Family Karma Cast Quarantine Updates: Anisha Ramakrishna, Brian Benni, And More!
Vishal Parvani is recovering after covid-19 diagnosis by isolating at home.
Ashley Hoover Baker April 23, 2020 11:37am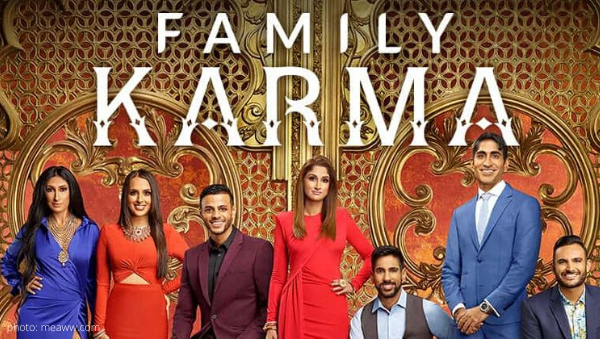 The Family Karma cast gave quarantine updates just before the hot new Bravo show's freshman year finale. Check in with Anisha Ramakrishna, Brian Benni, Bali Chainani, and more favorites and see who they have been isolated with and what they would like to do once this is over.
Shout out to Page Six, who made this video compilation of your favorite Family Karma stars (and my favorite pet) from the show.
Vishal Parvani spills the latest on his covid-19 recovery:
Family Karma's quirky star tested positive for the virus, and is recovering at home solo after three weeks of being isolated. Clad in a dragon onesie, Vishal detailed how thankful he is for video chats, as that's how he communicates with his fiancee, Richa Sadana. Vishal has also stayed busy zoom chatting with friends.
Vishal is excited to "go to the bars and have a drink with people" once the quarantine is lifted.
"Lots of, like, lonely solo happy hours." After quarantine, Bali looks forward to tanning and hanging out.
"I live at home, so this is not very different from my normal except we can't escape. When she can escape, she looks forward to getting a professional manicure.
"First off, living with your loved ones: mom, dad, and brother, you're always going to bicker about little things." (Relatable AF.)
Brian is most excited to give his friends "the biggest bear hug" after quarantine.
"I'm currently in quarantine with my dad and my grandmother. We tried to build an at home gym and I don't know if you guys have tried to go online to different sporting stores but right now you can't get sports gears or gym equipment anywhere."
Monica is most excited to get back to the club as soon as it is allowed.
Amrit and real MVP of Family Karma (his dog, Theo) had the most memorable interview as they explain how Theo's life won't change much after quarantine, whereas Amrit is most excited to get carded by a bouncer.
The Patel compound has been popping as the family spends time playing Settlers of Catan while in quarantine, making Mama Patel one happy lady.
See the interviews for yourself!
Need more Family Karma in your life?
Check out the On This Day Entertainment podcast for the week's reality tv, celebrity, and pop culture news. There are also weekly Shahs of Sunset and Family Karma breakdowns. Here is the most recent episode.
Do you think Family Karma will get picked up for a second season? Drop your predictions off in the comments!
---