Family Karma's Anisha Ramakrishna Married Boyfriend Dr. Anand Tarpara
"When you're older, I think it's different. It's more about the marriage, not necessarily the wedding."
Ashley Hoover Baker February 26, 2023 3:17pm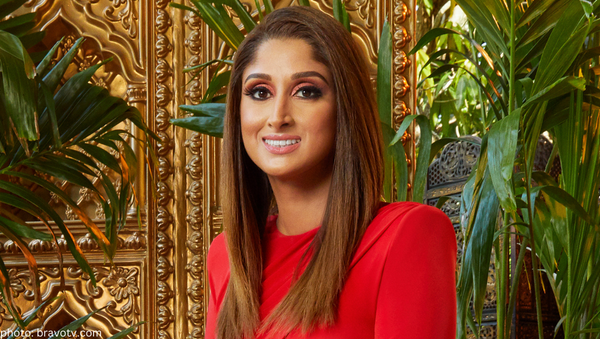 Congratulations, Anisha!
Family Karma star, Anisha Ramakrishna, married Dr. Anand Tarpara on Oct. 8, 2022.
According to reports from 
People
, the
Bravolebrity
tied the knot in front of 20 guests at her parent's Miami home. "If you find the right person, you just want to celebrate with your close friends, and at that point, we didn't know who was available and it was just too much planning that we couldn't do in a short amount of time," she says. "We kept it with just our immediate family and very few friends."
Why wait?
"We wanted to just get married versus plan this huge wedding and then we're just delaying it for another year. When you're older, I think it's different. It's more about the marriage, not necessarily the wedding," elaborated Anisha.
"I wanted an auspicious day, and we have Diwali in our Indian culture. It's kind of our new year. Oct. 8 is the start of the year for us and all good things in Hinduism."
The ceremony:
"We did a traditional Indian Puja, which is a ritual with the prayers and the priest."
"I also did henna on my hands. We had a Mehndi Day;" however, Anisha and Anand also chose to celebrate their own way.
"We didn't get to do the whole five-day Indian thing for our wedding because of our schedules" which made both sets of parents "livid."
"I think they still are," added Anisha.
"There's just two things I didn't do, which is the welcome dance, a Sangeet and the Haldi, which is where you put the turmeric all over your body. I just did it in a very closed setting."
Will Family Karma fans get to know Anisha's husband?
That's a pass for Dr. Anand.
"He is very private, and the show's my thing."
"It's something I signed up for. I can only hope viewers and the audience respect that and understand not everyone signs up for this."
"It's all fun and games when you're single and you meet someone awesome and they don't want to be on the show, then that's not a deal-breaker for me.
Anisha's red flag would fly if a boyfriend "wanted to be on the show. I think I'd be concerned."
Do you think it's fair for Anisha to not share all aspects of her life considering she's paid to be on a reality tv show? Sound off below.
---