Family Karma Star Amrit Kapai's Grandmother Passed Away
"Rest peacefully, my angel."
Ashley Hoover Baker July 30, 2021 7:27am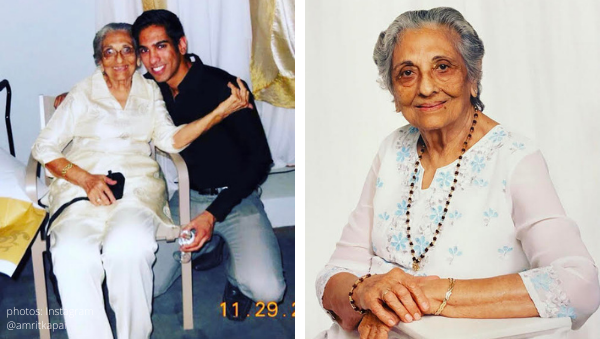 The Family Karma cast and fan community were devastated to learn that Amrit Kapai's grandmother, Nani, passed away.
Amrit shared the tragic news on his Instagram page.
The announcement:
"I recently came out to my Nani. She passed away this morning. I'll always wonder if I did the right thing."
"Towards the end, my Nani must've felt so insignificant. If only I could explain to her, 'Nani, you were far from insignificant. You are the Goliath that we will always love and remember. Even this last chapter of your incredible life will have a lasting impact on so many people. We will celebrate you, your love, and your kindness for years to come.'"
"Rest peacefully, my angel. I hope I never caused you any sadness 💔"
View this post on Instagram
Nani's impact on the Bravo community:
During Family Karma's sophomore season, Bravoholics watched Amrit debate whether or not to come out to his grandma as he prepared to propose to longtime boyfriend, Nicholas Kouchoukos.
Amrit was brave enough to have the conversation on camera then shared his experience on PeopleTV's Reality Check.
"It went as well as it could."
The attorney elaborated, "It's one of those moments in life that you sort of just blackout while you're having the conversation. The words are coming out of your mouth and you're just, there's so much going on."
"At one point, I didn't realize the cameras were even there because all I'm focused on is her face and trying to select the words."
Bravo's daddy, Andy Cohen, acknowledged the impact that Amrit coming out to his Nani had on him.
"I have to tell you, tonight's episode of Family Karma, I think, was one of the most powerful hours of television ever on Bravo. I was just in a puddle of tears, along with everyone who was watching."
Nani will be missed by many.
What would you like to see more of from Family Karma in the future? Sound off in the comments!
---