RHOBH's Erika Jayne Sued For $25M In Bankruptcy Case
Erika allegedly knew her husband's firm was paying for her expenses for a minimum of 12 years.
Ashley Hoover Baker August 28, 2021 12:52pm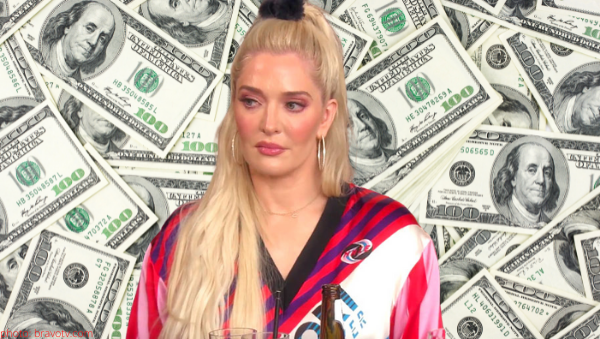 It WAS XXpen$ive to be Erika Jayne…
Real Housewives of Beverly Hills star Erika Jayne's house of cards is tumbling, and at a very high rate- $25 million dollars to be exact.
The debt:
According to reports from Page Six, the How Many F*cks singer allegedly knew "her estranged husband Tom Girardi's firm was paying for her expenses for at least 12 years. Now, the trustee in the bankruptcy case wants her to pay the firm back."
In case you missed it, the controversial RHOBH star was previously accused of using her company, EJ Global, "to spend over $25 million from the firm on an American Express bill and glam squad, among other charges."
Did I mention the court wants Erika to pay interest?
The deets:
According to the lawsuit, Erika attempted "to create a distinction between handing her money directly versus paying all of her bills directly."
"The distinction, like her prior motion for reconsideration is meritless. Any payments made for her benefit are her responsibility."
The receipts:
Thanks to Attorney Ronald Richards for doing the work and posting Tom and Erika's AMEX receipts as well as copies of EJ Global's spending history to his Instagram page.
View this post on Instagram
View this post on Instagram
Want to stay up-to-date on all things Real Housewives?
Check out the Pink Shade podcast for weekly Bravo breakdowns and more!
How do you think Erika's story will end? Drop your opinion off in the comments.
---