Eminem Believes RHOP Stars Gizelle Bryant And Robyn Dixon's Podcast Will "Damage" His Brand
The green-eyed bandits have until March 26 to respond to the rapper's request.
Ashley Hoover Baker February 20, 2023 8:26pm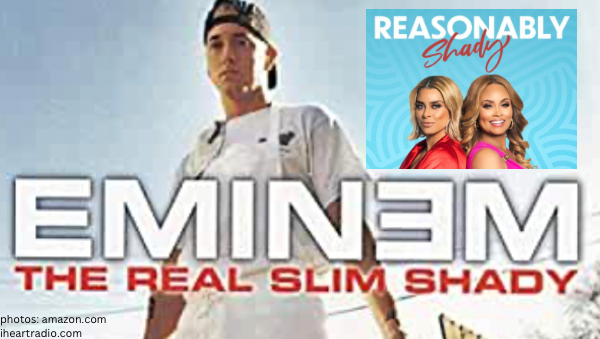 I'm Slim Shady. Yes, I'm the real Shady. All you other Slim Shadys are just imitating. 
Rapper Eminem filed an opposition against Real Housewives of Potomac's Gizelle Bryant and Robyn Dixon's application to trademark their podcast's name, Reasonably Shady.
According to legal docs obtained by Page Six, Marshall Mathers [Eminem] stated that his brand will be "damaged" if the RHOP cast members are issued the trademark they requested.
"He also said 'Reasonably Shady' can 'cause confusion in the minds of consumers,' who have known him by his monikers Slim Shady and Shady since the late '90s."
The names "Slim Shady" and "Shady" have been exclusively used by the 8 Mile actor "for entertainment services since 1998 and owns the trademark for 'Shady' to use on merch."
Bravoholics will have to continue to survive without "Reasonably Shady "water bottles, lip gloss, sweatshirts, hats, jackets and socks," if the Stan singer has his way.
The Reasonably Shady podcast hosts "have not publicly responded to Eminem's opposition" by must respond to the request by March 26.
View this post on Instagram
ICYMI, Eminem's daughter, Hailie Jade, has a podcast called 'Just A Little Shady' … so there's that. (Nepo baby problems- we joke because we are jealous!)
Do you think the court will side with Eminem or the RHOP women? Sound off below.
---