Hailie Jade Launches "Just A Little Shady" Podcast
Will the real Hailie Jade please stand up?
Imani Craig July 12, 2022 2:19pm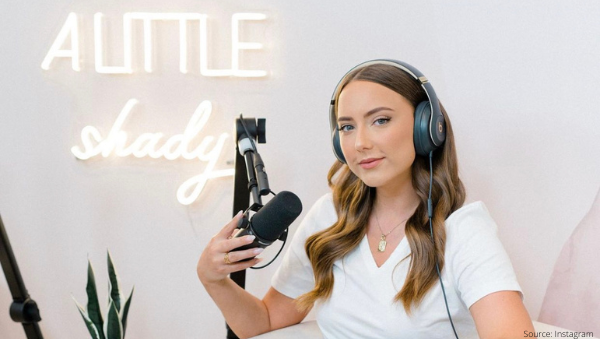 Will the real Hailie Jade please stand up? Things are getting a little Shady!
Hailie Scott Mathers, daughter of famed rapper Eminem, has a new podcast on the way titled, "Just A Little Shady." 
On July 12, Hailie shared a photo with her 2.7 million Instagram followers saying in part, "this project has been in the works for a while & I'm so excited for the first episode to be launching!!"
The 26 year-old says her podcast and accompanying YouTube Channel will feature topics ranging from life to pop culture, all while getting a little shady.
Even though the Michigan State University grad has chosen to keep a low profile in recent years, I'm hoping Just A Little Shady will address all the questions we (read I) have been dying to know!
Has she listened to the songs about her mother as an adult?
How did the MGK/Eminem twitter beef affect her?
What is like having Eminem as a dad??
SO MANY QUESTIONS!
While we wait for Ms. Mathers to fill in the blanks of her otherwise private life, here's what Hailie's been up to via Instagram:
Hailie's Helping her Cousin/Sister Plan A Wedding 
If you're a fan of Eminem's music, you likely are privy to his family dynamic. If not, here's the reader's digest version. The rapper adopted his niece, Alaina Scott, and raised her with his biological daughter, Hailie. Alaina is the daughter of Kim Scott's (Em's ex) twin sister, Dawn.
She Supported her Dad's Half Time Performance at the 2022 Super Bowl
In addition to Hailie attending, so did his brother Nathan and niece Alaina.
She's in a relationship with boyfriend, Evan McClintock
Hailie's love life is under lock and key. While she has posted photos with her bf, not much else has been shared. Even his Instagram account is private.
Hailie's into Fashion 
After graduating college, Hailie began drifting into "influencer" life, posting branded content, and showing off her urban style.
If ever there was someone that needed a podcast, its Hailie Scott Mathers. Despite all the drama over the years, she has never once commented on it, or made her feelings known.
But it's her time to be shady and the people are ready!
For a roundup of other celebrity podcasts, click here!
Will you tune into Just A Little Shady?
---