Diddy Attempted To Support Kanye West As "Black Man" But Was Shut Down
Kanye told Diddy,
Ashley Hoover Baker October 7, 2022 9:23am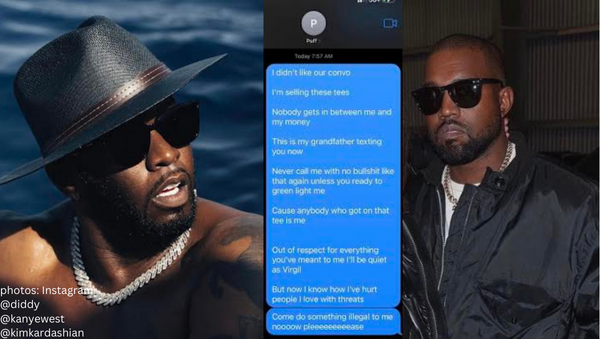 A series of text messages posted by Kim K's ex indicates rapper Diddy reached out to support his friend amid his most recent scandal involving "White Lives Matter" shirts donned at Ye's Paris Fashion Week show.
Diddy's well intentions were not met with gratitude from Kanye.
The texts:
The first screenshot shared was a message to 'Puff' …  a response to Diddy [Puff] reaching out to Kanye regarding the controversial 'White Lives Matter' shirts.
"Never call me with no bullshit like that again unless you ready to green light me … Come do something illegal to me noooow."
Ye's following post indicated Diddy was flying to support his friend face-to-face; he just needed the address. Kanye responded, "F*****CK YOU – YOU FED."
Diddy pled with Kanye to share his address and to "stop playing these internet games … and don't feel threatened. You'll be fine. Just love."
"This ain't a game,' replied the father of four. "I told you this was war."
The final message shared from the Making The Band host stated, "I'm just trying to talk to you as a black man. And I'm talking to you because this is hurting our people. Stop."
Always chiming in with the last word, Ye told Diddy, "I accept your apology in advance."
Screenshots never die:
Kanye's IG posts will likely be deleted soon, but the following screenshots will live forever.
Puff trying to be a friend … pic.twitter.com/hRw5QoRMJj

— OnThisDayENT (@OnThisDayENT) October 7, 2022
Do you think Kanye will stop anytime soon? Sound off in the comments.
---