Cynthia Bailey "Still Processing" Getting Duped By Todrick Hall On Celebrity Big Brother
The RHOA alumni and Carson Kressley's lapse in judgement got Shanna Moakler evicted.
Ashley Hoover Baker February 24, 2022 9:54am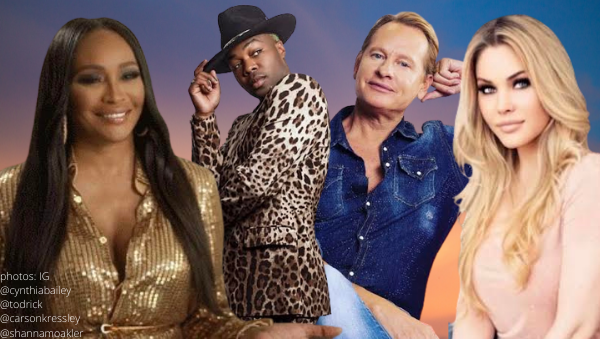 "Beauty fades. Class is forever." –Cynthia Bailey
The Real Housewives of Atlanta alumni lived up to her season 5 tagline, by remaining classy (and STUNNING, as always) on the third season of Celebrity Big Brother, unlike her housemate/recurring RuPaul's Drag Race judge, Todrick Hall.
Though 50+ Cynt and her housemate bestie, Carson Kressley, kept it cute, that didn't help their alliance mate, Shanna Moakler, continue in the game.
Reality check:
After a month in the Big Brother house without connection to the outside world, Cynthia is still "in shock" to what was really going on with controversial CBB houseguest, Todrick.
In an interview with Entertainment Weekly, the RHOA star continued, "I was so excited to leave the house and see everyone, and everyone was, like, stone-faced. I was like, 'What is going on?'"
"And then of course, Carson [Kressley], my ride-or-die, I didn't get a chance to talk to him. Really quickly, he just said, 'You have to watch the show.' And I was like, 'Of course I'm going to watch the show. I'm going to watch it anyway, no matter what. I can't wait to watch the show.'"
Still processing:
The model/Bravolebrity explained how confused she became seeing the other evicted houseguests voted for MMA champion, Miesha Tate.
"Last time when these people were in the house with me, they weren't exactly Miesha fans either."
"I figured it was maybe 50-50, because Miesha was HOH longer than anyone. So she had a lot of blood on her hands."
"I was surprised Todrick didn't get more love. I am still processing all of that."
Carson's truth bomb:
"After the show Carson told me. 'Basically, we got duped. And none of it was true.'"
"And I was like, 'Oh, my God.' I just can't even believe it."
"I still can't believe that they lied to us to our face."
"And I feel horrible because I was so tough on Shanna. Because when you're in that house, all you have is your alliance. And I was super protective of Carson. He was my ride-or-die."
Moving forward:
Now that the entire CBB3 cast is back in the real world, Cynthia is ready to make ammends with what happened inside the house.
"So now if what I'm hearing is true, and I got to watch and see for myself, it definitely sounds like I owe Shanna a huge apology personally and publicly at this point. Because I really felt like at the time I was doing what we had to do to protect our alliance."
Do you see Cynthia, Carson, and Shanna maintaining a friendship outside of the BB house? Sound off in the comments.
---