Cynthia Bailey is the Model Mogul
The RHOA star is slaying in the fashion and accessories business!
Dana Escamilla September 21, 2017 2:42pm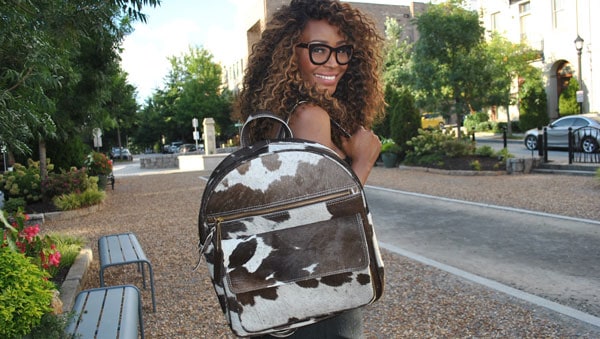 OG Real Housewives of Atlanta star Cynthia Bailey has seen her fair share of relationship drama play out over the past 9 seasons. Yet, going into season 10, Cynthia is still at the top of her game. In addition to starring in one of the most popular Housewives franchises, the supermodel is booked and busy building the Bailey name into a powerhouse brand.
Having first launched The Bailey Agency School of Fashion, she has recently parlayed her passion for fashion into the stylish Cynthia Bailey Eyewear and CARGO® By Cynthia Bailey product lines. But Ms. Bailey's only just getting started.
"My vision for building my fashion & lifestyle accessories empire is inspired by my job, my travels and my everyday life. I want to create products that I love, need and enjoy. I want to share them with the world. My eyewear and bags are just the beginning. Candles, hats, watches, bedding and much more are on the way." —Cynthia Bailey 
It goes without saying, she's the perfect face for all of these products and is slaying them all!
CARGO By Cynthia Bailey
[rev_slider alias="cargo"]
The CARGO by Cynthia Bailey Collection is designed for a wide range of women and men who are fashion forward. The bags are made to enhance anyone's style with their versatility in bold, solid, rustic leather colors and the prices of the pieces reflect the superior quality and craftsmanship. The collections consists of backpacks, travel bags, toiletry bags and wristlet purses.  Of course every piece of the fashion-line luggage pairs nicely with Cynthia Bailey glasses in true travel style!
Cynthia Bailey Eyewear
Cynthia Bailey Eyewear is inspired with bold yet elegant designs which she's modeling frequently on her Instagram and for sale on QVC.  And who can forget the drama over Kim Fields directing the commercial in season 8! The collection is all hand-made and composed of Italian acetates in vibrant colors fused together with the highest grade of stainless steel and high quality UV protection lens. The styles range for any age and style from sunglasses to opticals to readers. Of course she's got her fashionista friends and daughter Noelle rocking these lenses! 
The Bailey Agency
The Bailey Agency School of Fashion has been the backdrop of plenty of RHOA drama (remember Kenya and the coochie crack?!?), but it's also a business near and dear to her heart. As a supermodel and actress, she was inspired to start the full-service fashion and modeling school in Atlanta, GA with a mission to give aspiring talent what it takes to achieve success in the thrilling, but challenging fashion industry.
Real Housewives of Atlanta Season 10
Coming off of the highest ratings ever from season 9, the return of RHOA season 10 on November 5th is already rumored to be epic! If cast photo status is any indication, Cynthia is center peach! The new trailer just dropped and the drama is already delivering with the return of her best friend Nene Leakes and a rivalry between buddy Kenya Moore and returning friend-of-the-show Kim Zolciak Bierman! You can expect plenty of themed parties, including a kick off birthday bash honoring Cynthia's model looks at 50 years young! Now that ex husband Peter Thomas is on his way out, we do wonder if her new boyfriend, Will Jones, will get more air time?! 
Check out all the hot spots Cynthia Bailey has been on RHOA!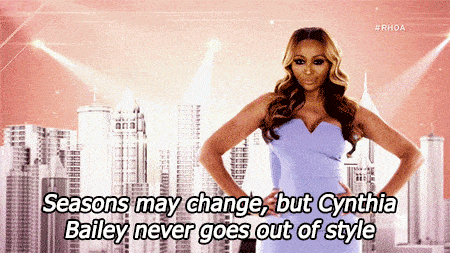 Connect with Cynthia Bailey
Have Cynthia Bailey or RHOA questions? We have answers! Check out our RHOA Q&A!
---