Chrishell Stause Tweeted Christine Quinn Lied To Avoid Selling Sunset Reunion
Update- Mary Fitzgerald thinks Christine faked covid because she "didn't want to face everything she's done."
Ashley Hoover Baker April 29, 2022 12:18pm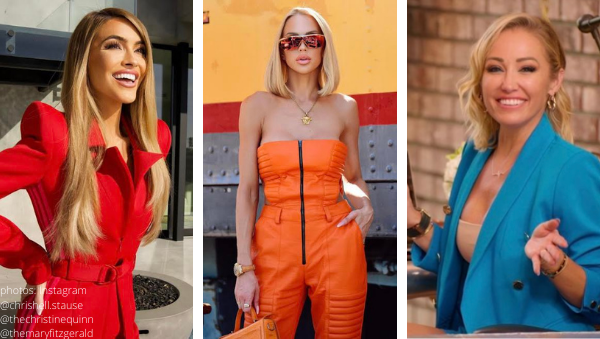 ---
Updated post 4/29/2022 @12:18
Faked it!
Oppenheim Group manager, Mary Fitzgerald, agrees with realtor Chrishell Stause in that Christine Quinn faked a positive covid diagnosis to avoid the hot seat at the Selling Sunset reunion.
After explaining how the cast was required to test on the Tuesday and the Friday prior to the reunion filming on Sunday, Mary dished to TMZ that Christine tested negative both times.
In case you missed it, Christine claimed she tested positive on Saturday and wasn't well enough to appear virtually at the reunion the following day.
Mary explained her former friend/colleague "didn't want to face everything she's done."
Speaking for the office, Mary gave insight as to how the rest of the high-end real estate office felt about Christine's absence.
"It's sad. We all showed up. We didn't want to talk about her actions. I'm sure she didn't want to have answers for her actions. We didn't want to be there talking about it either, but it's our job. We're doing it."
Do you think Christine faked covid? Drop your opinion off in the comments!
---
Original post 4/27/2022 @10:53
Busted!
Chrishell Stause hilariously took to Twitter to express her theory as to why her co-star, Christine Quinn, missed the season 5 Selling Sunset reunion.
The actress-turned-realtor-turned-reality tv star responded to a paparazzi shot of Christine filming poolside with Real Housewives of New Jersey's Melissa Gorga just days after she skipped the reunion after testing positive for covid.
A gif is worth a thousand words:
Chrishell posted a gif of iconic daytime tv host, Maury Povich, uttering his signature line, "The lie detector test determined that was a lie" alleging Christine didn't attend the reunion because she didn't want to- not because she was sick.
— Chrishell Stause (@Chrishell7) April 27, 2022
Reunion attendance:
For the record, Christine wasn't the only Selling Sunset starlet to contract covid before the reunion.
Amanza Smith tested positive for the virus before the reunion but chose to appear virtually unlike Christine, who said she wasn't feeling well enough to attend in person or virtually.
Do you think Chrishell is right in that Christine ditched the reunion so she wouldn't have to be accountable for her actions? Sound off in the comments!
---