Selling Sunset's Chrishell Stause Found Out About Divorce From Justin Hartley Via Text Message
Justin is 'irritated' that Chrishell aired their private information.
Ashley Hoover Baker August 7, 2020 4:30pm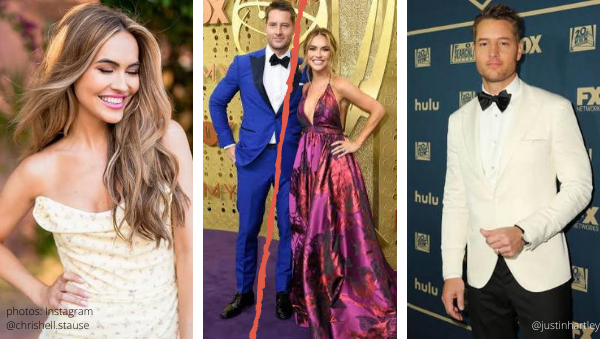 Oh no he didn't!
Selling Sunset's Chrishell Stause found out about divorce from Justin Hartley via text message. 'I thought that must be a joke.'
Wait…
It gets worse.
The This Is Us star is 'irritated' with how his ex is talking about the split on Selling Sunset.
The text:
Chrishell explained to her co-star, Mary Fitzgerald, "I found out because he texted me that we were filed. Forty-five minutes later, the world knew," on the third season of Netflix's hit show.
She later strongly hinted she was blindsided by the news … and now we know why. Remember how angry we were when Jack Berger broke up with Carrie Bradshaw on a post-it note on Sex And The City? They weren't even married…
The aftermath:
Chrishell confided to her friend, "It's like, now I have to find a place to live. Now I have to scramble and figure this out, you know?"
"When I found out, I was minutes before leaving the house for work, so I immediately just grabbed a few things and I just got out of there as fast as I could." Chrishell continued, "I don't think I really knew where I was going or what I was gonna do, but I just had to leave."
It's a good thing she's a real estate agent and has a pulse on the market! I'm going to guess that Chrishell ended up in The Valley, but what do I know….
Want to see Chrishell tell her story? Here ya go!
Justin isn't happy with Chrishell:
According to an US Weekly source, "Justin has not watched the episodes but has been alerted to what is said. He's irritated that she's airing their private information publicly and knows there is more to the story than is being told. His close friends and family know what really happened, as does Chrishell, so ultimately it's her choice of what is put out there."
Maybe if Justin would have had a mature breakup with his wife, maybe she wouldn't have needed to figure things out with her friend. Just sayin'.
Chrishell and Justin's split:
Us Weekly confirmed in late 2019 that "Hartley filed for divorce from Stause after two years of marriage. A source revealed the following month that he 'had been having problems with the marriage for a while,' but 'the divorce filing was a big surprise to everyone around Justin and Chrishell in terms of their friends.'"
TMZ reported, that Justin claimed "irreconcilable differences as the reason for the divorce."
Moving on:
The Blast reported that Chrishell requested to change her last name back to her maiden name and Justin moved on with actress Sofia Pernas.
Christine Quinn commented on her co-star's split:
The glamorous real estate threw some delicious low key shade at Chrishell before dishing on the word around the office regarding the split. "We just thought maybe they were having communication problems for a while, and we heard that they were in therapy. So, obviously there was some issues going on with them and it's none of our business, but I really, really don't know."
Read the entire messy statement here!
Need more Selling Sunset in your life?
Beyond The Velvet Rope's David Yontef joined me on the On This Day Entertainment podcast to kiki about the first two seasons of Selling Sunset. Listen here!
Do you think more dirt on Chrishell and Justin's failed marriage will play out in the media? Drop your predictions off here!
---