Selling Sunset's Brett Oppenheim And Tina Louise Split Just After Jason Oppenheim And Chrishelle Stause Announce Break Up
Tina Louise confirmed neither Oppenheim twin is in the market for kids...
Ashley Hoover Baker December 27, 2021 10:22am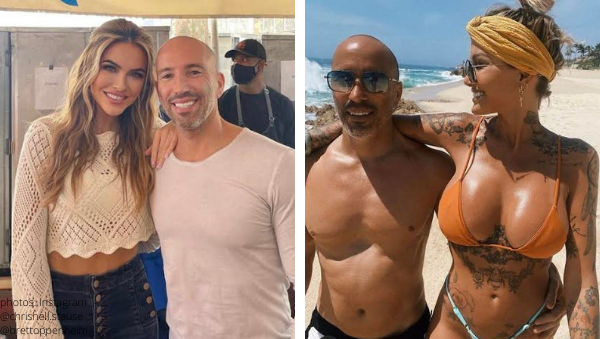 ______________________________________________________
Updated post published 12/27/2021 @10:22
Brett Oppenheim's ex-girlfriend, Tina Louise, told TMZ what prompted her breakup with the Selling Sunset star.
The deal-breaker:
"We've been together eight months, so it got to a point where I wanted to take the next step in the relationship and he wasn't quite there yet."
Though Tina Louise isn't sure if kids are in her future, she explicitly stated, "No, he [Brett] doesn't" want kids.
The entrepreneur elaborated, "I think maybe the relationship with Chrishell [Stause] and Jason [Oppenehim] may have prompted me to ask some more questions to Brett, and that sort of ended the relationship."
______________________________________________________
Original post published 12/22/2021 @11:19
Back on the market:
Just after the news of Selling Sunset's Chrishell Stause and Jason Oppenheim's breakup spread across the internet, Jason's brother, Brett Oppenheim confirmed and his girlfriend, Tina Louise, have also called it quits.
What in the breakup heck is happening over at the Oppenheim Group?!?!
Chrishell and Jason:
In what might be the most mature celebrity breakup of the 21st century, the Netflix stars split due to having 'different wants' regarding a family.
The soap actress star took to the 'gram to share, "Jason was and is my best friend, and other than our ideas for family ultimately not being aligned, the amount of respect and love we have for each other will not change going forward. Men have the luxury of time that women don't and that's just the way it goes…I very much hope to one day have a family and decisions I make at this point are with that goal in mind. Thank you for the kindness and support to those that understand. And thank you Jason for the most incredible relationship and for consistently being honest with me even when it hurts."
So, is this the most mature celebrity split we've seen in ages? Who else called it quits like grown ass adults as of late? #SellingSunset #chrishellstause #JasonOppenheim pic.twitter.com/gWqJCFn2uu

— OnThisDayENT (@OnThisDayENT) December 22, 2021

Never forget, Chrishell learned of her impending divorce from This Is Us actor Justin Hartley via text.
Brett and Tina:
After eight months after going public with their relationship, the real estate mogul confirmed his split from the Sugar Taco owner via and Q & A session on his Instagram story.
Though Brett was answering real estate questions, he did give an inquisitive fan the answer to their burning relationship question.
"OK, this question has absolutely nothing to do with real estate, but I will answer it." When asked if he was single, Brett answered "As of very recently, actually, yes."
Tina also confirmed the split while hosting a similar Q&A on her Instagram Story alongside an old photo of the pair.
"Brett is my ex, but we remain very good friends."
Again, mature AF. Mama Oppenheim raised her twins right!
Want to stay up-to-date with all things reality tv?
Check out Zachary Reality for the latest from Netflix, Bravo TV, Bachelor Nation, and more!
Do you see either of these couples rekindling their romance in the future? Sound off in the comments.
---