Captain Jason Chambers Gets Cozy With Ashley Darby And Lala Kent At BravoCon
Who do you ship harder for Jason, Ashley or Lala?
Staff November 6, 2023 8:13pm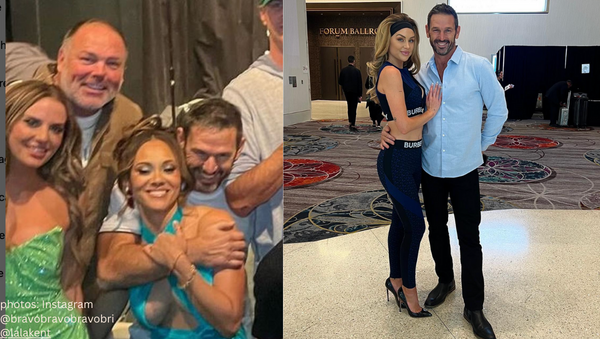 Love Lust is in the air in Sin City!
BravoCon 2023 in Las Vegas not only brought Bravolebrities from various franchises together, but it may also have been the catalyst for romance … or at least a sexy Vegas tryst or two.
Below Deck Down Under's Captain, Jason Chambers, came to play – and we love to see it!
The Zaddy of the Sea was actively pursued by babes from all regions of the BravoVerse.
Real Housewives of New York's Luann de Lesseps revealed that she was going to shoot her shot with Captain Jason, as did Rhylee Gerber of Winter House, and Southern Charm's Olivia Flowers.
Newly single Lindsay Hubbard went on the record saying she's "ready to go down under" with Captain Jason.
The thirst for Jason is real.
Although he can have his choice of honey, the Below Deck babe spent quality time with a Real Housewife and a Vanderpump Rules star over the course of the three day event.
During an interview with The Messenger, Real Housewives of Potomac beauty, Ashley Darby, expressed interest in the boat babe.
"Captain James. He's a cutie."
"We've chatted," gushed the RHOP star.
"We talk about, like, ashrams and yoga and stuff like that."
"Whatever happens. I'm not rushing it. I believe in divine timing. I'm a lover girl. Hardcore lover girl. So when the time is right."
View this post on Instagram
While the Ashley and the other Bravolebrity beauties had their eyes on Captain Jason, he showed interest in VPR's Lala Kent.
In an interview with Page Six, Jason dished on his relationship with Lala. "We have met. We have exchanged … we have communicated."
He even noted that "It's only eight hours from the Philippines" to Los Angeles, where the VPR star resides.
Both Lala and Jason posted pics of them posing together to their Instagram grids, Zaddy of the Sea posted a video of a panel in which he stood up for Lala when her co-star spoke out of turn about her whereabouts on night one of BravoCon.
Jason chimed in to reveal where Lala was when James Kennedy accused her of hanging out in Tom Sandoval's suite.
"We were in the elevator at 11:00 and I said, 'Goodnight' to you."
Since Jason spoke up first, Lala knew she could go there without revealing too much.
"I was in the elevator with this sexy man."
Jason reiterated that he and Lala were in the elevator together at eleven o'clock then he went upstairs.
The way Jason defended Lala left me breathless.
View this post on Instagram
Both of these women's children deserve a man like Jason in their lives. Keep in mind their fathers are creepy AF Michael Darby and Randall Emmett. 
Who do you ship harder for Jason, Ashley or Lala? Drop names below.
---