BravoCon 2023's Gabby From Philly Discussed Jennifer Aydin's Misgendering And Body Shaming Comment
"Do better."
Staff November 13, 2023 8:56am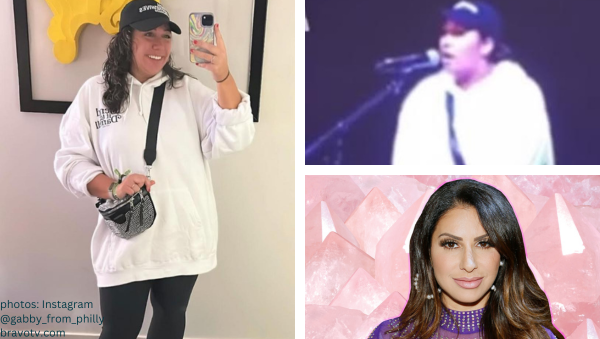 Gabby From Philly mentioned it all.
BravoCon 2023's viral sensation set the record straight regarding her infamous question to Jennifer Aydin … Is it possible to crawl any further up Teresa Giudice's ass? 
The self-proclaimed "normal, average girl" shared what happened after she asked that question about the Real Housewives of New Jersey stars, including when Jennifer called her "Big Boy."
Gabby began by clarifying that she was NOT paid by Bravo, Margaret Josephs, or The Gorgas to ask the salacious question. The three-time BravoCon attendee wanted to "get her money's worth" from the pricey three-day event … and that included asking a shady question.
Fair.
Jennifer responded to the question asked, and Jennifer Gabby her for it … until she rallied for Teresa to join her as she continued to both body shame and intentionally misgender Gabby.
Gabby reminded her followers that Jennifer's own daughter was bullied at school because of her weight (as seen on RHONJ) and that Jennifer has a family member in the LGBTQIA community, yet the controversial Bravolebrity called her "Big Boy," which both body shamed and intentionally misgendered in one foul swoop.
Speaking directly to Jennifer, Gabby continued "As someone that has a platform … do better."
Drop your thoughts about the Gabby from Philly and Jennifer Aydin feud in the comments.
---