RDPR Winner Bob The Drag Queen Will Open For Madonna On Her Celebrations Tour
Now we know why Bob cancelled his Sibling Rivalry live shows with Monet X Change.
Ashley Hoover Baker January 18, 2023 9:29am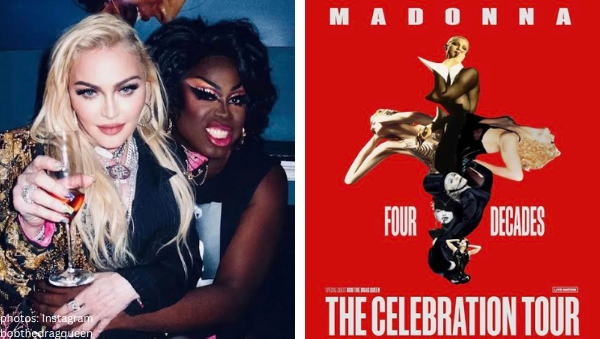 Booked and busy!
RuPaul's Drag Race winner, Bob the Drag Queen, went ahead and earned himself a 'Special Guest' spot on Madonna's upcoming Celebration Tour which will feature the greatest hits from all forty years of her iconic career.
The game-changing pop music icon shared, "I am excited to explore as many songs as possible in hopes to give my fans the show they have been waiting for," according to Madonna.com.
"The Celebration Tour will offer a one-of-a-kind experience with special guest Bob the Drag Queen a.k.a. Caldwell Tidicue."
As exciting as this news is for RPDR and Madonna fans, Bob was forced to cancel the Sibling Rivalry Tour featuring his co-host and fellow RPDR winner, Monet X Change.
"
SIBLING RIVALRY TOUR ANNOUNCEMENT
To our fans and supporters, we will be unable to finish the second leg of the Sibling Rivalry Tour. We wanted to thank everyone for their unwavering support of us and the tour! All ticket and VIP will automatically be refunded via point of purchase. Your girls aren't going anywhere though! We still have our podcast twice a week and exciting individual endeavors being announced soon!"
Which Madonna songs do you hope make it to the Celebrations setlist? Sound off in the comments.
---