Fired Below Deck Med Star Peter Hunziker Trashed Bravo TV
The disgraced yachtie also commented on Malia White and Hannah Ferrier's alleged drug use.
Ashley Hoover Baker August 12, 2020 2:06pm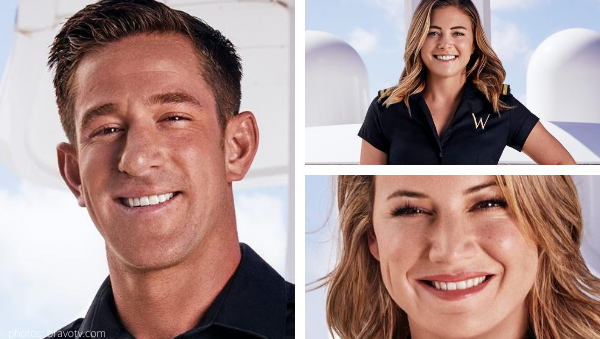 Sure, Peter Hunzkier may have been fired from Bravo's Below Deck Mediterranean, but that doesn't mean he's keeping the network's name out of his mouth. In fact, Peter not only threw shade at the network he used to work for, but he made further comments about his former colleagues. Some people never learn…
Let's set the stage:
On Monday night's episode of BDM, Hannah Ferrier, the chief stewardess, was accused of keeping drugs in her cabin. Malia White reported her to the ship's captain, Sandy Yawn, for having Valium and a weed pen in their shared cabin before the show ended with a cliffhanger.
Hannah took to Twitter to share her side of the story:
I like Malia's arranging skills. So that's prescribed Valium, CBD (which is legal in Spain), a lighter (not sure what this has to do with anything) and my passport holder… And for anyone who's interested the prescription is on the other side of the box as shown… #belowdeckmed pic.twitter.com/9ZpMjVUWVu

— Hannah Ferrier (@hannahferrier_) August 11, 2020
Peter's role in this drama:
The former reality show cast member took to social media to express his support for his former chief stew. But, this IS Peter we are talking about. He didn't miss this opportunity to accuse another former colleague, Malia of using cocaine while he was at it.
"Honestly, let's talk about Malia's Cocaine use off the boat [sp]? How's that any better? Hannah has a prescription, which she can handle from a licensed doctor and malia chooses in her drug time to spend big money on dangerous shit sending it str8 to her bosun captain brain [sp]. Amazing."
Peter didn't stop there. In addition to showing emotional support for Hannah, he threw shade at Malia, comparing her to a rodent.
"What a rat, let's air sweetheart Malia's DRUG history out there Miss I'm so worried about my ticket but I'll sniff an 8 ball on the weekend. Yup I've spoken, truth hurts."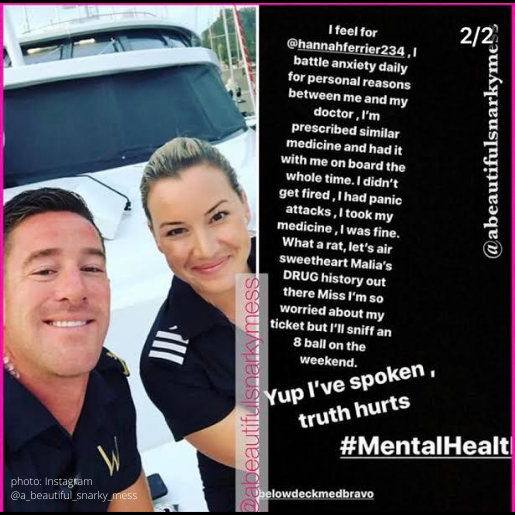 Malia clapped back:
Malia took to her Instagram story to shut Peter's accusations down.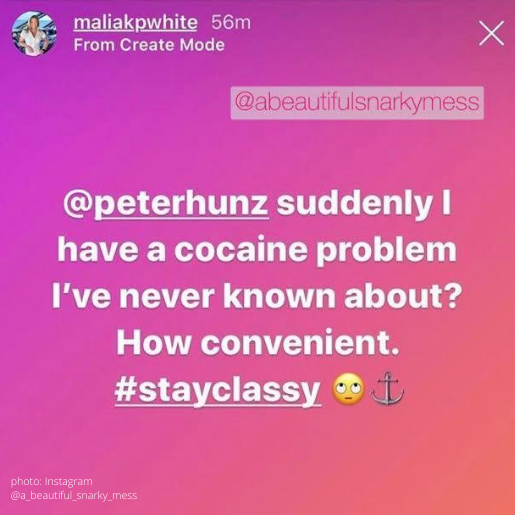 Peter clapped back at Malia's clap back:
Peter doubled down on his accusations of Malia's cocaine use. After she posted, "Suddenly I have a cocaine problem…" Peter quickly clarified his intention.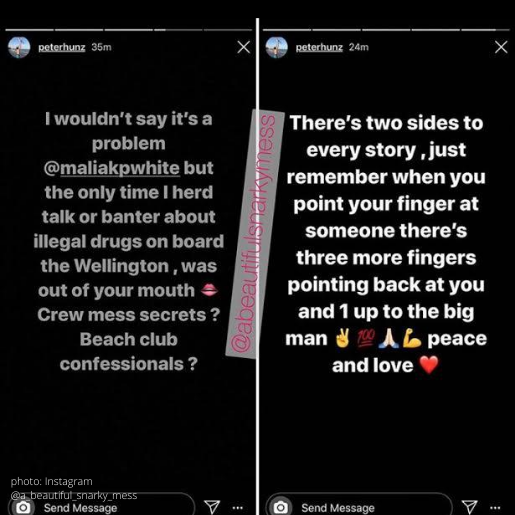 Peter's comments about Bravo:
Peter's rant wasn't only focused on bringing justice for Hannah while destroying Malia's reputation- he wanted to let his followers know how he really feels about Bravo, his former employer.
He explained how he loves "watching this shit show unfold," which is relatable AF, and is "ashamed I ever put my name in the hat for this terrible network and awful people on both sides."
Peter couldn't resist finishing up with the statement, "F*ck bravo and below deck, this is not a yachting show by any means!"
In the words of Malia, '#stayclassy.'
Don't want to miss out on any reality tv news or gossip?
Subscribe to the On This Day Entertainment podcast to stay up-to-date on your favorite reality shows! Here is the most recent episode.
How do you think the drug use story line will play out on BDM? Drop your predictions off in the comments!
---