Andy Cohen And Anderson Cooper Take Non-Alcoholic Shots After CNN Enforced Drinking Ban
Ashley Hoover Baker January 1, 2023 11:48am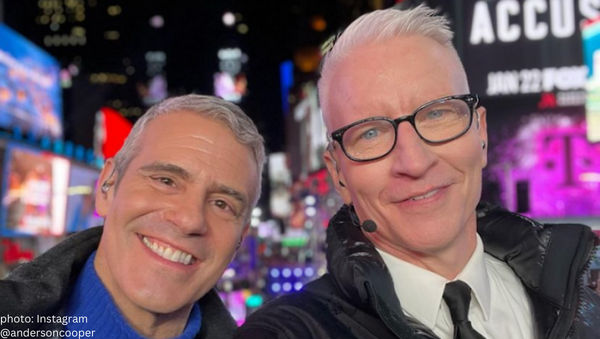 Bravo
's daddy remained the "party ringleader for everyone watching" alongside his pal as they took celebratory shots – of a non-alcoholic mystery beverage – at the top of each hour.
**
Never forget AC x 2 were banned from drinking after 2022's NYE countdown show shenanigans in which Andy dragged ex-NYC Mayor, Bill de Blasio, for trash.
**
As each hour arrived, Andy and Anderson closed their eyes while shooting the mystery liquid as the audience toasted with them. The hosts wore bejeweled Ramona Singer-inspired glasses while the audience learned the non-alcoholic contents of the shot glasses.
The mystery shots included pickle juice, apple cider vinegar, and buttermilk.
Audiences epiphanies included:
Andy can't tell the difference between pickle juice and tomato juice
Anderson claimed he has never eaten a pickle in his life. (Myself, on the other hand…)
Both hosts, who have children thanks to surrogates, chased their mystery shots with juice boxes.
The Watch What Happens Live host stated for the record, "I prefer tequila."
Did you enjoy ringing in the new year with a sober Anderson and Andy or did you miss the mess? Drop your opinion off in the comments.
---